WENDEL CLARK Hockey Cards
On Tophockeycards.com your hockey cards value for free. Bonus: Get hockey stats from your favorite hockey players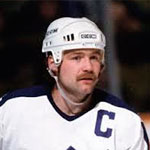 Wendel L. Clark (born October 25, 1966) is a retired Canadian professional ice hockey player. He is perhaps best known for being a member of the Toronto Maple Leafs of the National Hockey League (NHL), captaining the team from 1991 to 1994. During this time, he was often referred to as 'Captain Crunch,' as he played a very physical and intense style of hockey.
Wendel Clark was known for his physical play and his offensive mind combined with scoring prowess. After his rookie season, he was named to the NHL All-Rookie Team and finished third in voting for the Calder Memorial Trophy. The serious back injury that Clark suffered during a game against the Chicago Blackhawks in 1987, when he was cross-checked into the crossbar of his own goal, hindered his progress as an elite NHL player. Nonetheless, he was a crowd favourite at Maple Leaf Gardens and won a place in the hearts of Leaf fans as he provided a spark during the latter part of the Harold Ballard era, considered the darkest period in the storied franchise's history. He was named captain of the team for the 1991–92 season.
Upon returning to the Leafs in 2000, after being benched by the Blackhawks, Webdel Clark was not particularly effective for the remainder of the regular season, but he found his form for the Leafs' playoff run. The love that Leaf fans had for their former captain could be seen when they gave a 1:30 standing ovation after Clark barreled into the New Jersey zone and hit the post in Game 1. During Game 4, Clark assisted on the game-winning goal that gave the Leafs a 2–1 victory and tied the series with the Devils.
WENDEL CLARK NHL Seasons Stats
Age
Season
Team
Pos
GP
G
A
PTS
+/-
PIM
Shot %
31
1997-98
TOR
LW
47
12
7
19
-21
80
8.6
30
1996-97
TOR
LW
65
30
19
49
-2
75
14.2
28
1994-95
QUE
LW
37
12
18
30
-1
45
12.6
27
1993-94
TOR
LW
64
46
30
76
10
115
16.7
26
1992-93
TOR
LW
66
17
22
39
2
193
11.6
25
1991-92
TOR
LW
43
19
21
40
-14
123
12
24
1990-91
TOR
LW
63
18
16
34
-5
152
9.9
23
1989-90
TOR
LW
38
18
8
26
2
116
21.2
22
1988-89
TOR
LW
15
7
4
11
-3
66
23.3
21
1987-88
TOR
LW
28
12
11
23
-13
80
12.9
20
1986-87
TOR
LW
80
37
23
60
-23
271
15
19
1985-86
TOR
LW
66
34
11
45
-27
227
20.7
NHL season totals
612
262
190
452
-8
1543
14.9
WENDEL CLARK Hockey Cards
WENDEL CLARK
| COMMON
$10.00
WENDEL CLARK
| COMMON
$6.00
WENDEL CLARK
| COMMON
$0.50
WENDEL CLARK
| COMMON
$0.60
WENDEL CLARK
| COMMON
$0.75
WENDEL CLARK
| COMMON
$0.75
WENDEL CLARK
| COMMON
$0.15
WENDEL CLARK
| ORIGINAL 6
$0.20
WENDEL CLARK
| COMMON
$0.75
WENDEL CLARK
| COMMON
$0.60
WENDEL CLARK
| COMMON
$0.40
WENDEL CLARK
| CAPTAIN
$0.40
WENDEL CLARK
| COMMON
$0.50
WENDEL CLARK
| COMMON
$0.60
WENDEL CLARK
| COMMON
$0.75
WENDEL CLARK
| COMMON
$0.40
WENDEL CLARK
| COMMON
$0.50
WENDEL CLARK
| COMMON
$0.60
WENDEL CLARK
| COMMON
$0.60
WENDEL CLARK
| COMMON
$0.40
WENDEL CLARK
| COMMON
$0.60
WENDEL CLARK
| COMMON
$1.50
WENDEL CLARK
| COMMON
$1.25
WENDEL CLARK
| COMMON
$0.60
WENDEL CLARK
| COMMON
$0.25
WENDEL CLARK
| COMMON
$0.75
WENDEL CLARK
| COMMON
$0.75
WENDEL CLARK
| MARQUEE LEGEND
$3.00
WENDEL CLARK
| COMMON
$2.50
WENDEL CLARK
| COMMON
$4.00
WENDEL CLARK
| COMMON
$1.50
WENDEL CLARK
| CAPTAINS
$2.50
WENDEL CLARK
| COMMON
$2.50
WENDEL CLARK
| RECORD HOLDER
$2.50
WENDEL CLARK
| MEMORABLE MOMENTS
$2.50
WENDEL CLARK
| MEMORABLE MOMENTS
$2.50
---