PIERRE TURGEON Hockey Cards
On Tophockeycards.com your hockey cards value for free. Bonus: Get hockey stats from your favorite hockey players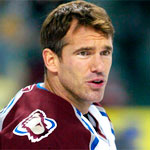 Pierre Turgeon (born August 28, 1969) is a retired Canadian professional ice hockey player. Turgeon was drafted by the Buffalo Sabres as the 1st overall pick in the 1987 NHL Entry Draft. Rick Jeanneret, play-by-play announcer for the Sabres, coined the phrase 'Ooh-la-la Pierre' for Pierre Turgeon.
Pierre Turgeon would quickly make an impact with the Sabres once he arrived. In his rookie season, he contributed a respectable 42 points (14 goals, 28 assists) during the 1987–88 NHL season helping the Sabres reach the playoffs for the first time in three years.
After four plus years with the Sabres, Turgeon was traded on October 25, 1991, to the New York Islanders. Pierre Turgeon's best season as an Islander was the 1992–93 season. On November 8, 2005, Turgeon became the 34th player in NHL history to score 500 goals. He scored against the San Jose Sharks. On September 5, 2007, announced his retirement from the NHL.
PIERRE TURGEON NHL Seasons Stats
Age
Season
Team
Pos
GP
G
A
PTS
+/-
PIM
Shot %
37
2006-07
COL
C
17
4
3
7
-1
10
12.9
36
2005-06
COL
C
62
16
30
46
1
32
17
34
2003-04
DAL
C
76
15
25
40
17
20
14.4
33
2002-03
DAL
C
65
12
30
42
4
18
15.8
32
2001-02
DAL
C
66
15
32
47
-4
16
12.4
31
2000-01
STL
C
79
30
52
82
14
37
17.5
30
1999-00
STL
C
52
26
40
66
30
8
18.7
29
1998-99
STL
C
67
31
34
65
4
36
16.1
28
1997-98
STL
C
60
22
46
68
13
24
15.7
26
1995-96
MTL
C
80
38
58
96
19
44
12.8
24
1993-94
NYI
C
69
38
56
94
14
18
15
23
1992-93
NYI
C
83
58
74
132
-1
26
19.3
21
1990-91
BUF
C
78
32
47
79
14
26
18.4
20
1989-90
BUF
C
80
40
66
106
10
29
20.7
19
1988-89
BUF
C
80
34
54
88
-2
26
18.7
18
1987-88
BUF
C
76
14
28
42
-8
34
13.9
NHL season totals
1090
425
675
1100
8
404
16.2
PIERRE TURGEON Hockey Cards
PIERRE TURGEON
| COMMON
$8.00
PIERRE TURGEON
| COMMON
$1.50
PIERRE TURGEON
| COMMON
$0.25
PIERRE TURGEON
| ALL STAR
$0.25
PIERRE TURGEON
| COMMON
$0.30
PIERRE TURGEON
| COMMON
$0.40
PIERRE TURGEON
| TEAM CHECKLIST
$0.40
PIERRE TURGEON
| COMMON
$0.40
PIERRE TURGEON
| COMMON
$0.15
PIERRE TURGEON
| COMMON
$0.40
PIERRE TURGEON
| COMMON
$0.30
PIERRE TURGEON
| ERROR
$0.20
PIERRE TURGEON
| COMMON
$0.20
PIERRE TURGEON
| COMMON
$0.25
PIERRE TURGEON
| COMMON
$0.30
PIERRE TURGEON /SYLVAIN TURGEON
| NHL BROTHERS
$0.30
PIERRE TURGEON
| FRANCHISE
$0.30
PIERRE TURGEON
| COMMON
$0.40
PIERRE TURGEON
| COMMON
$0.40
PIERRE TURGEON
| COMMON
$0.20
PIERRE TURGEON
| COMMON
$0.25
PIERRE TURGEON
| COMMON
$0.30
PIERRE TURGEON
| FRANCHISE
$0.30
PIERRE TURGEON
| COMMON
$0.30
PIERRE TURGEON
| COMMON
$0.20
PIERRE TURGEON
| COMMON
$0.30
PIERRE TURGEON
| COMMON
$1.00
PIERRE TURGEON
| COMMON
$0.60
PIERRE TURGEON
| COMMON
$0.30
PIERRE TURGEON
| COMMON
$0.25
PIERRE TURGEON
| COMMON
$0.40
PIERRE TURGEON
| COMMON
$0.50
PIERRE TURGEON
| COMMON
$0.50
PIERRE TURGEON
| COMMON
$0.50
PIERRE TURGEON
| COMMON
$0.40
PIERRE TURGEON
| COMMON
$0.60
PIERRE TURGEON
| COMMON
$0.50
PIERRE TURGEON
| COMMON
$0.60
PIERRE TURGEON
| COMMON
$1.00
PIERRE TURGEON
| COMMON
$0.60
PIERRE TURGEON
| COMMON
$0.50
PIERRE TURGEON
| COMMON
$0.60
PIERRE TURGEON
| COMMON
$0.60
PIERRE TURGEON
| COMMON
$0.60
PIERRE TURGEON
| COMMON
$0.40
PIERRE TURGEON
| COMMON
$0.60
PIERRE TURGEON
| COMMON
$0.40
PIERRE TURGEON
| COMMON
$0.40
PIERRE TURGEON
| COMMON
$0.40
PIERRE TURGEON
| COMMON
$0.60
PIERRE TURGEON
| COMMON
$0.60
PIERRE TURGEON
| LEGEND
$2.00
PIERRE TURGEON
| COMMON
$2.00
---