On Tophockeycards.com your hockey cards value for free. Bonus: Get hockey stats from your favorite hockey players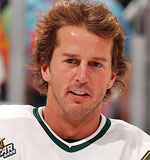 Michael Thomas Modano, Jr. (born June 7, 1970) is an American professional ice hockey player.The North Stars selected Modano as the first overall draft pick in the 1988 NHL Entry Draft at the age of 18, an honor shared by only five other Americans. Mike Modano is the all-time goal-scoring and points leader amongst American-born players in the NHL. He was also the last player on the Dallas Stars roster, and is the last active player in the NHL, that played for the franchise when it was in Minnesota. Mike Modano was drafted 1st overall by the Minnesota North Stars in 1988. The franchise moved after the 1992-93 season. With the retirement of Mark Recchi, Modano is the final NHL player from the 1980s still active in professional hockey.
Mike Modano has also been a finalist for the Calder Memorial Trophy (1990), the Frank J. Selke Trophy (2001), and the Lady Byng Trophy (2003). He controversially lost the Calder Memorial Trophy, awarded to the year's best rookie, to 31-year-old Sergei Makarov.
MIKE MODANO NHL Seasons Stats
Age
Season
Team
Pos
GP
G
A
PTS
+/-
PIM
Shot %
40
2010-11
DET
C
40
4
11
15
-4
8
5.1
39
2009-10
DAL
C
59
14
16
30
-6
22
12.2
38
2008-09
DAL
C
80
15
31
46
-13
46
7.6
37
2007-08
DAL
C
82
21
36
57
-11
48
10.5
36
2006-07
DAL
C
59
22
21
43
9
34
15.6
35
2005-06
DAL
C
78
27
50
77
23
58
13
33
2003-04
DAL
C
76
14
30
44
-21
46
9.2
32
2002-03
DAL
C
79
28
57
85
34
30
14.5
31
2001-02
DAL
C
78
34
43
77
14
38
15.5
30
2000-01
DAL
C
81
33
51
84
26
52
15.9
29
1999-00
DAL
C
77
38
43
81
0
48
20.2
28
1998-99
DAL
C
77
34
47
81
29
44
15.2
27
1997-98
DAL
C
52
21
38
59
25
32
11
26
1996-97
DAL
C
80
35
48
83
43
42
12
25
1995-96
DAL
C
78
36
45
81
-12
63
11.3
24
1994-95
DAL
C
30
12
17
29
7
8
12
23
1993-94
DAL
C
76
50
43
93
-8
54
17.8
22
1992-93
MNS
C
82
33
60
93
-7
83
10.7
21
1991-92
MNS
RW
76
33
44
77
-9
46
12.9
20
1990-91
MNS
RW
79
28
36
64
2
65
12.1
19
1989-90
MNS
RW
80
29
46
75
-7
63
16.9
NHL season totals
1499
561
813
1374
5
930
12.9
MIKE MODANO Hockey Cards
MIKE MODANO
| COMMON
$1.00
MIKE MODANO
| COMMON
$1.25
MIKE MODANO
| COMMON
$2.50
MIKE MODANO
| ALL ROOKIE TEAM
$1.25
MIKE MODANO
| ALL ROOKIE TEAM
$1.50
MIKE MODANO
| COMMON
$1.00
MIKE MODANO
| COMMON
$1.00
MIKE MODANO
| COMMON
$0.75
MIKE MODANO
| COMMON
$0.50
MIKE MODANO
| COMMON
$0.60
MIKE MODANO
| FRANCHISE
$0.75
MIKE MODANO
| COMMON
$0.75
MIKE MODANO
| CANADA CUP
$1.00
MIKE MODANO
| COMMON
$1.00
MIKE MODANO
| COMMON
$0.60
MIKE MODANO
| COMMON
$0.75
MIKE MODANO
| GAMEWINNERS
$0.75
MIKE MODANO
| COMMON
$1.00
MIKE MODANO
| FRANCHISE
$1.00
MIKE MODANO UER
| COMMON
$1.00
MIKE MODANO
| TEAM CHECKLIST
$0.60
MIKE MODANO
| COMMON
$0.60
MIKE MODANO
| COMMON
$0.60
MIKE MODANO
| COMMON
$1.50
MIKE MODANO
| COMMON
$1.25
MIKE MODANO
| COMMON
$0.60
MIKE MODANO
| COMMON
$0.50
MIKE MODANO
| COMMON
$1.25
MIKE MODANO
| COMMON
$1.25
MIKE MODANO
| COMMON
$0.75
MIKE MODANO
| COMMON
$0.75
MIKE MODANO
| STAR POWER
$1.25
MIKE MODANO
| COMMON
$0.75
MIKE MODANO
| COMMON
$0.75
MIKE MODANO
| COMMON
$0.75
MIKE MODANO
| COMMON
$4.00
MIKE MODANO
| COMMON
$0.60
MIKE MODANO
| COMMON
$1.25
MIKE MODANO
| COMMON
$1.25
MIKE MODANO
| COMMON
$0.75
MIKE MODANO
| COMMON
$1.25
MIKE MODANO
| COMMON
$1.25
MIKE MODANO
| COMMON
$1.50
MIKE MODANO
| COMMON
$2.00
MIKE MODANO
| COMMON
$0.75
MIKE MODANO
| COMMON
$2.00
MIKE MODANO /JEREMY ROENICK
| COMMON
$1.50
MIKE MODANO
| COMMON
$0.75
MIKE MODANO
| COMMON
$1.25
MIKE MODANO
| COMMON
$0.75
MIKE MODANO
| COMMON
$1.50
MIKE MODANO
| COMMON
$1.25
MIKE MODANO
| COMMON
$0.75
MIKE MODANO
| COMMON
$3.00
MIKE MODANO
| COMMON
$1.50
MIKE MODANO
| JUMBO
$4.00
MIKE MODANO
| COMMON
$1.50
MIKE MODANO
| COMMON
$1.25
MIKE MODANO
| CAPTAINS
$1.25
MIKE MODANO
| TEAM CHECKLIST
$1.25
MIKE MODANO
| COMMON
$1.25
MIKE MODANO
| COMMON
$1.00
MIKE MODANO
| COMMON
$0.75
MIKE MODANO
| COMMON
$0.75
MIKE MODANO
| COMMON
$1.50
MIKE MODANO
| COMMON
$5.00
MIKE MODANO
| COMMON
$0.75
MIKE MODANO
| COMMON
$0.75
MIKE MODANO
| HALL WORTHY
$0.75
MIKE MODANO
| TEAM CHECKLIST
$0.75
MIKE MODANO
| COMMON
$1.25
MIKE MODANO
| COMMON
$6.00
MIKE MODANO
| COMMON
$1.25
MIKE MODANO
| COMMON
$0.60
MIKE MODANO
| COMMON
$0.75
MIKE MODANO
| COMMON
$1.25
MIKE MODANO
| COMMON
$5.00
MIKE MODANO
| COMMON
$1.00
MIKE MODANO
| COMMON
$1.00
MIKE MODANO
| COMMON
$0.75
MIKE MODANO
| COMMON
$1.00
MIKE MODANO
| COMMON
$0.75
MIKE MODANO
| COMMON
$2.00
MIKE MODANO
| COMMON
$1.25
MIKE MODANO
| COMMON
$1.25
MIKE MODANO
| COMMON
$1.00
MIKE MODANO
| COMMON
$0.75
MIKE MODANO
| COMMON
$1.25
MIKE MODANO
| COMMON
$3.00
MIKE MODANO
| COMMON
$1.25
MIKE MODANO
| COMMON
$1.25
MIKE MODANO
| LEGEND
$5.00
MIKE MODANO
| COMMON
$0.75
MIKE MODANO
| COMMON
$0.75
MIKE MODANO
| COMMON
$0.75
MIKE MODANO
| COMMON
$1.50
MIKE MODANO
| IMMORTALS
$4.00
MIKE MODANO
| MARQUEE LEGEND
$3.00
MIKE MODANO
| COMMON
$1.00
MIKE MODANO
| LEGEND
$4.00
MIKE MODANO
| COMMON
$4.00
MIKE MODANO
| MARQUEE LEGENDS
$1.50
---