On Tophockeycards.com your hockey cards value for free. Bonus: Get hockey stats from your favorite hockey players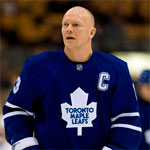 Mats Johan Sundin ( is a retired Swedish professional ice hockey player. Originally drafted first overall in 1989, Sundin played his first four seasons in the NHL with the Quebec Nordiques. Mats Sundin was traded to the Toronto Maple Leafs in 1994, where he played the majority of his career, serving 11 seasons as team captain. At the end of the 2007–08 NHL season, Sundin had been the longest serving non-North American born captain in NHL history. Sundin last played for the Vancouver Canucks in the 2008–09 season before announcing his retirement on September 30, 2009.
On October 14, 2006, Sundin became the first Swedish player to score 500 goals.He is the Leafs' franchise all-time leader in goals (420) and points (984). He is currently tied with Jaromir Jagr, Sergei Fedorov, and Patrik Elias for the NHL record for regular-season overtime goals (15).
MATS SUNDIN NHL Seasons Stats
Age
Season
Team
Pos
GP
G
A
PTS
+/-
PIM
Shot %
37
2008-09
VAN
C
41
9
19
28
-5
28
10.7
36
2007-08
TOR
C
74
32
46
78
17
76
12.4
35
2006-07
TOR
C
75
27
49
76
-2
62
8.4
34
2005-06
TOR
C
70
31
47
78
7
58
14.1
32
2003-04
TOR
C
81
31
44
75
11
52
13.7
31
2002-03
TOR
C
75
37
35
72
1
58
16.6
30
2001-02
TOR
C
82
41
39
80
6
94
15.6
29
2000-01
TOR
C
82
28
46
74
15
76
12.4
28
1999-00
TOR
C
73
32
41
73
16
46
17.4
27
1998-99
TOR
C
82
31
52
83
22
58
14.8
26
1997-98
TOR
C
82
33
41
74
-3
49
15.1
25
1996-97
TOR
C
82
41
53
94
6
59
14.6
24
1995-96
TOR
RW
76
33
50
83
8
46
11
23
1994-95
TOR
C
47
23
24
47
-5
14
13.3
22
1993-94
QUE
C
84
32
53
85
1
60
14.2
21
1992-93
QUE
C
80
47
67
114
21
96
21.9
20
1991-92
QUE
RW
80
33
43
76
-19
103
14.3
19
1990-91
QUE
RW
80
23
36
59
-24
58
14.8
NHL season totals
1346
564
785
1349
4
1093
14.2
MATS SUNDIN Hockey Cards
MATS SUNDIN
| COMMON
$0.50
MATS SUNDIN
| NHL PROSPECT 90
$0.60
MATS SUNDIN
| COMMON
$2.00
MATS SUNDIN
| SUPER ROOKIE
$0.50
MATS SUNDIN
| COMMON
$0.50
MATS SUNDIN
| COMMON
$0.50
MATS SUNDIN
| COMMON
$0.40
MATS SUNDIN /MATS NASLUND
| IDOLS
$0.40
MATS SUNDIN
| COMMON
$0.25
MATS SUNDIN
| COMMON
$0.30
MATS SUNDIN
| COMMON
$0.40
MATS SUNDIN
| CANADA CUP
$0.50
MATS SUNDIN
| TEAM CHECKLIST
$0.50
MATS SUNDIN
| COMMON
$0.50
MATS SUNDIN
| COMMON
$0.25
MATS SUNDIN
| INTERNATIONAL RISING
$0.25
MATS SUNDIN
| COMMON
$0.30
MATS SUNDIN
| COMMON
$0.40
MATS SUNDIN
| COMMON
$0.40
MATS SUNDIN
| COMMON
$0.25
MATS SUNDIN
| WORLD CHAMPIONSHIPS
$0.25
MATS SUNDIN
| COMMON
$0.40
MATS SUNDIN
| COMMON
$1.00
MATS SUNDIN
| COMMON
$0.75
MATS SUNDIN
| COMMON
$0.40
MATS SUNDIN
| COMMON
$0.30
MATS SUNDIN
| COMMON
$0.75
MATS SUNDIN
| COMMON
$0.75
MATS SUNDIN
| COMMON
$0.50
MATS SUNDIN
| COMMON
$0.50
MATS SUNDIN
| COMMON
$0.50
MATS SUNDIN
| COMMON
$0.50
MATS SUNDIN
| COMMON
$0.50
MATS SUNDIN
| COMMON
$0.40
MATS SUNDIN
| COMMON
$0.75
MATS SUNDIN
| COMMON
$0.75
MATS SUNDIN
| COMMON
$0.50
MATS SUNDIN
| COMMON
$0.75
MATS SUNDIN
| COMMON
$0.75
MATS SUNDIN
| COMMON
$1.00
MATS SUNDIN
| COMMON
$2.00
MATS SUNDIN
| COMMON
$1.25
MATS SUNDIN
| COMMON
$0.50
MATS SUNDIN
| COMMON
$1.25
MATS SUNDIN
| COMMON
$0.50
MATS SUNDIN
| COMMON
$0.75
MATS SUNDIN
| COMMON
$0.50
MATS SUNDIN
| COMMON
$1.00
MATS SUNDIN
| COMMON
$0.75
MATS SUNDIN
| COMMON
$0.50
MATS SUNDIN
| COMMON
$1.00
MATS SUNDIN
| JUMBO
$2.50
MATS SUNDIN
| COMMON
$1.00
MATS SUNDIN
| COMMON
$0.75
MATS SUNDIN
| CAPTAINS
$0.75
MATS SUNDIN
| TEAM CHECKLIST
$0.75
MATS SUNDIN
| COMMON
$0.75
MATS SUNDIN
| COMMON
$0.60
MATS SUNDIN
| COMMON
$4.00
MATS SUNDIN
| COMMON
$2.00
MATS SUNDIN
| COMMON
$0.50
MATS SUNDIN
| COMMON
$0.50
MATS SUNDIN
| COMMON
$1.00
MATS SUNDIN
| COMMON
$3.00
MATS SUNDIN
| COMMON
$0.50
MATS SUNDIN
| COMMON
$0.75
MATS SUNDIN
| COMMON
$0.50
MATS SUNDIN
| HALL WORTHY
$0.50
MATS SUNDIN
| TEAM CHECKLIST
$0.50
MATS SUNDIN
| COMMON
$0.75
MATS SUNDIN
| COMMON
$2.50
MATS SUNDIN
| COMMON
$0.75
MATS SUNDIN
| COMMON
$0.40
MATS SUNDIN
| COMMON
$0.50
MATS SUNDIN
| COMMON
$0.75
MATS SUNDIN
| COMMON
$0.60
MATS SUNDIN
| COMMON
$0.50
MATS SUNDIN
| COMMON
$0.60
MATS SUNDIN
| COMMON
$1.25
MATS SUNDIN
| COMMON
$0.50
MATS SUNDIN
| COMMON
$1.25
MATS SUNDIN
| COMMON
$0.75
MATS SUNDIN
| COMMON
$0.60
MATS SUNDIN
| COMMON
$1.25
MATS SUNDIN
| COMMON
$0.50
MATS SUNDIN
| COMMON
$0.60
MATS SUNDIN
| AUTHENTIC MOMENTS
$2.00
MATS SUNDIN
| COMMON
$2.50
MATS SUNDIN
| COMMON
$3.00
MATS SUNDIN
| MARQUEE LEGENDS
$1.00
---