DAVID KREJCI Hockey Cards
On Tophockeycards.com your hockey cards value for free. Bonus: Get hockey stats from your favorite hockey players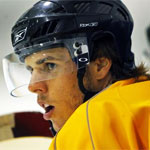 David Krejci (born April 28, 1986) is a Czech professional ice hockey center. David Krejci was the Boston Bruins' first pick in the second round of the 2004 NHL Entry Draft (63rd overall). David Krejci is known for his puck control and his playmaking ability from the pivot position for the Bruins.
David Krejci scored his first NHL hat-trick on December 18, 2008. Before a game on April 2, 2009, David Krejci was named the winner of the Boston Bruins' 2009 Seventh Player Award. The award is given annually to the player who 'goes beyond the call of duty and exceeds all expectations' throughout the course of the season.
On June 2, 2009, Krejci signed a multi-year contract with the Bruins, reportedly a three-year deal averaging $3.75 million a year. He is the first Bruin to record a playoff hat trick since Cam Neely, two decades prior. On June 15, 2011 David Krejci and the Bruins won the teams first Stanley Cup in 39 years. Krejci finished the 2011 playoffs with a league-leading 12 goals, 23 points and 4 game-winning goals.
DAVID KREJCI NHL Seasons Stats
Age
Season
Team
Pos
GP
G
A
PTS
+/-
PIM
Shot %
34
2020-21
BOS
C
51
8
36
44
16
16
9.6
33
2019-20
BOS
C
61
13
30
43
14
23
15.7
32
2018-19
BOS
C
81
20
53
73
7
16
14.4
31
2017-18
BOS
C
64
17
27
44
10
18
14.3
30
2016-17
BOS
C
82
23
31
54
-12
26
14.6
29
2015-16
BOS
C
72
17
46
63
4
32
11.9
28
2014-15
BOS
C
47
7
24
31
7
22
10
27
2013-14
BOS
C
80
19
50
69
39
28
11.2
26
2012-13
BOS
C
47
10
23
33
1
20
10.8
25
2011-12
BOS
C
79
23
39
62
-5
36
15.9
24
2010-11
BOS
C
75
13
49
62
23
28
8.3
23
2009-10
BOS
C
79
17
35
52
8
26
10.9
22
2008-09
BOS
C
82
22
51
73
37
26
15.1
21
2007-08
BOS
C
56
6
21
27
-3
20
8.2
20
2006-07
BOS
C
6
0
0
0
-3
2
0
NHL season totals
962
215
515
730
10
339
11.4
DAVID KREJCI Hockey Cards
DAVID KREJCI
| MARQUEE ROOKIES
$5.00
DAVID KREJCI
| ROOKIE
$10.00
DAVID KREJCI
| ROOKIE
$4.00
DAVID KREJCI
| COMMON
$0.50
DAVID KREJCI
| COMMON
$0.75
DAVID KREJCI
| COMMON
$0.50
DAVID KREJCI
| COMMON
$0.75
DAVID KREJCI
| COMMON
$0.75
DAVID KREJCI
| COMMON
$0.75
DAVID KREJCI
| COMMON
$0.50
DAVID KREJCI
| COMMON
$0.50
DAVID KREJCI
| COMMON
$0.50
DAVID KREJCI
| CHL CARD
$0.60
DAVID KREJCI
| COMMON
$0.50
DAVID KREJCI
| COMMON
$0.60
DAVID KREJCI
| COMMON
$0.60
DAVID KREJCI
| COMMON
$0.50
DAVID KREJCI
| COMMON
$0.40
DAVID KREJCI
| COMMON
$0.75
DAVID KREJCI
| COMMON
$0.60
DAVID KREJCI
| COMMON
$0.50
DAVID KREJCI
| COMMON
$0.40
TUUKKA RASK /BRAD MARCHAND /DAVID KREJCI /MILAN LUCIC
| TEAM LEADERS
$0.75
DAVID KREJCI
| COMMON
$1.50
TUUKKA RASK /BRAD MARCHAND /DAVID KREJCI /MILAN LUCIC
| TEAM LEADERS
$3.00
DAVID KREJCI
| COMMON
$1.00
DAVID KREJCI
| COMMON
$0.75
DAVID KREJCI
| COMMON
$0.50
DAVID KREJCI
| COMMON
$1.00
DAVID KREJCI
| COMMON
$1.00
DAVID KREJCI
| COMMON
$0.75
DAVID KREJCI
| COMMON
$0.60
DAVID KREJCI
| COMMON
$0.40
DAVID KREJCI
| COMMON
$0.60
DAVID KREJCI
| COMMON
$0.75
DAVID KREJCI
| COMMON
$0.75
DAVID KREJCI
| COMMON
$0.50
DAVID KREJCI
| COMMON
$0.75
DAVID KREJCI /ALEX GALCHENYUK
| CHECKLIST
$0.75
DAVID KREJCI
| COMMON
$0.40
DAVID KREJCI
| COMMON
$0.75
DAVID KREJCI
| COMMON
$0.60
DAVID KREJCI
| COMMON
$0.50
DAVID KREJCI
| COMMON
$0.60
DAVID KREJCI
| COMMON
$0.75
DAVID KREJCI
| COMMON
$0.60
DAVID KREJCI
| COMMON
$0.60
DAVID KREJCI
| COMMON
$0.75
DAVID KREJCI
| COMMON
$0.60
DAVID KREJCI
| COMMON
$0.75
DAVID KREJCI
| COMMON
$0.60
DAVID KREJCI
| COMMON
$0.60
---