On Tophockeycards.com your hockey cards value for free. Bonus: Get hockey stats from your favorite hockey players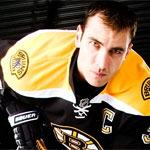 Zdeno Chara (born March 18, 1977) is a Slovak professional ice hockey defenseman. Zdeno Chara is the captain of the Boston Bruins of the NHL and won the Norris Trophy while playing for them in 2008–09. At 6 ft 9 (2.06 m), he is the tallest player ever to play in the NHL. He is also the second European born and trained captain to win the Stanley Cup.
Zdeno Chara was drafted 56th overall by the New York Islanders in the 1996 NHL Entry Draft. As a Senator for four years, Zdeno Chara emerged as an elite defenseman in the league and more than doubled his previous offensive totals in his first season with Ottawa. Subsequently, on July 1, 2006, he signed a five-year, $37.5 million contract with the Boston Bruins and was named the team's captain. Zdeno Chara won the James Norris Memorial Trophy in 2009. On October 9, 2010, Chara re-signed with the Bruins with a 7-year deal.
ZDENO CHARA NHL Seasons Stats
Age
Season
Team
Pos
GP
G
A
PTS
+/-
PIM
Shot %
44
2021-22
NYI
D
72
2
12
14
8
85
2.5
43
2020-21
WSH
D
55
2
8
10
5
44
3
42
2019-20
BOS
D
68
5
9
14
26
60
5.8
41
2018-19
BOS
D
62
5
9
14
22
57
5.1
40
2017-18
BOS
D
73
7
17
24
22
60
4.9
39
2016-17
BOS
D
75
10
19
29
18
59
7.4
38
2015-16
BOS
D
80
9
28
37
12
71
5.7
37
2014-15
BOS
D
63
8
12
20
0
42
5.8
36
2013-14
BOS
D
77
17
23
40
25
66
10.1
35
2012-13
BOS
D
48
7
12
19
14
70
5.9
34
2011-12
BOS
D
79
12
40
52
33
86
5.4
33
2010-11
BOS
D
81
14
30
44
33
88
5.3
32
2009-10
BOS
D
80
7
37
44
19
87
2.9
31
2008-09
BOS
D
80
19
31
50
23
95
8.8
30
2007-08
BOS
D
77
17
34
51
14
114
8.2
29
2006-07
BOS
D
80
11
32
43
-21
100
5.4
28
2005-06
OTT
D
71
16
27
43
17
135
7.5
26
2003-04
OTT
D
79
16
25
41
33
147
8.6
25
2002-03
OTT
D
74
9
30
39
29
116
5.4
24
2001-02
OTT
D
75
10
13
23
30
156
9.5
23
2000-01
NYI
D
82
2
7
9
-27
157
2.4
22
1999-00
NYI
D
65
2
9
11
-27
57
4.3
21
1998-99
NYI
D
59
2
6
8
-8
83
3.6
20
1997-98
NYI
D
25
0
1
1
1
50
0
NHL season totals
1680
209
471
680
13
2085
5.6
ZDENO CHARA Hockey Cards
ZDENO CHARA
| COMMON
$0.30
ZDENO CHARA
| COMMON
$0.50
ZDENO CHARA
| COMMON
$0.50
ZDENO CHARA
| COMMON
$0.50
ZDENO CHARA
| COMMON
$0.50
ZDENO CHARA
| COMMON
$0.50
ZDENO CHARA
| COMMON
$0.50
ZDENO CHARA
| COMMON
$0.75
ZDENO CHARA
| COMMON
$0.75
ZDENO CHARA
| COMMON
$0.60
ZDENO CHARA
| COMMON
$0.50
ZDENO CHARA
| COMMON
$0.50
ZDENO CHARA
| COMMON
$1.00
ZDENO CHARA
| COMMON
$0.50
ZDENO CHARA
| COMMON
$0.50
ZDENO CHARA
| COMMON
$0.75
ZDENO CHARA
| COMMON
$0.75
ZDENO CHARA
| COMMON
$0.40
ZDENO CHARA
| COMMON
$0.50
ZDENO CHARA
| COMMON
$0.75
ZDENO CHARA
| COMMON
$3.00
ZDENO CHARA
| COMMON
$0.60
ZDENO CHARA
| COMMON
$0.50
ZDENO CHARA
| COMMON
$0.60
ZDENO CHARA
| COMMON
$0.50
ZDENO CHARA
| COMMON
$1.25
ZDENO CHARA
| COMMON
$0.75
ZDENO CHARA
| COMMON
$0.75
ZDENO CHARA
| COMMON
$0.60
ZDENO CHARA
| COMMON
$0.50
ZDENO CHARA
| COMMON
$0.75
ZDENO CHARA
| COMMON
$0.75
ZDENO CHARA
| COMMON
$1.00
ZDENO CHARA
| COMMON
$0.50
ZDENO CHARA
| COMMON
$0.50
ZDENO CHARA
| COMMON
$0.50
ZDENO CHARA
| COMMON
$0.60
ZDENO CHARA
| COMMON
$0.60
ZDENO CHARA
| COMMON
$1.00
ZDENO CHARA
| COMMON
$0.75
ZDENO CHARA
| COMMON
$0.50
ZDENO CHARA
| SEASON HIGHLIGHT
$0.40
ZDENO CHARA
| COMMON
$0.40
ZDENO CHARA
| COMMON
$0.75
ZDENO CHARA
| COMMON
$0.60
ZDENO CHARA
| COMMON
$0.50
ZDENO CHARA
| COMMON
$0.40
ZDENO CHARA
| COMMON
$0.60
ZDENO CHARA
| COMMON
$1.00
ZDENO CHARA
| COMMON
$1.00
ZDENO CHARA /TUUKKA RASK /PATRICE BERGERON
| CHECKLIST
$1.25
ZDENO CHARA
| COMMON
$0.75
ZDENO CHARA
| COMMON
$0.50
ZDENO CHARA
| COMMON
$1.00
ZDENO CHARA
| COMMON
$1.00
ZDENO CHARA
| COMMON
$0.75
ZDENO CHARA
| COMMON
$0.60
ZDENO CHARA
| COMMON
$0.50
ZDENO CHARA
| COMMON
$0.75
ZDENO CHARA
| COMMON
$1.00
ZDENO CHARA
| COMMON
$0.50
ZDENO CHARA
| COMMON
$0.75
ZDENO CHARA
| COMMON
$0.50
ZDENO CHARA
| COMMON
$0.75
ZDENO CHARA
| COMMON
$0.60
ZDENO CHARA
| COMMON
$0.60
ZDENO CHARA
| COMMON
$0.40
ZDENO CHARA
| COMMON
$0.75
ZDENO CHARA
| COMMON
$0.60
ZDENO CHARA
| COMMON
$0.50
ZDENO CHARA
| SEASON HIGHLIGHTS
$1.25
ZDENO CHARA
| COMMON
$0.60
ZDENO CHARA
| COMMON
$0.60
ZDENO CHARA
| COMMON
$0.40
---