VLADIMIR TARASENKO Hockey Cards
On Tophockeycards.com your hockey cards value for free. Bonus: Get hockey stats from your favorite hockey players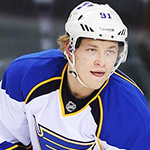 Vladimir Andreyevich Tarasenko (born December 13, 1991) is a Russian professional ice hockey forward.
Vladimir Tarasenko's father, Andrei, was a former Russian league scoring champion and Olympian. Tarasenko was drafted by St. Louis Blues 16th overall in the 2010 NHL Entry Draft via a trade on June 25, 2010.
On January 13, 2012, Tarasenko was traded to SKA Saint Petersburg for Vyacheslav Solodukhin. On June 2, 2012, Tarasenko announced that he would be coming to North America to play in the NHL for the St. Louis Blues rather than stay and play in the KHL.[8] However as a result of the 2012–13 NHL lockout Tarasenko instead returned to SKA. He credited the decision in part to a desire to play with Ilya Kovalchuk, the captain of the team who also joined as a result of the lockout.
Once the lockout ended, Tarasenko started the 2012–13 NHL season with the Blues. He scored his first and second goals on the first two shots of his NHL debut on January 19, 2013. On April 18, 2015, Tarasenko recorded his first Playoff career hat trick
VLADIMIR TARASENKO NHL Seasons Stats
Age
Season
Team
Pos
GP
G
A
PTS
+/-
PIM
Shot %
30
2021-22
STL
RW
75
34
48
82
7
32
14.8
29
2020-21
STL
RW
24
4
10
14
-7
0
6.2
28
2019-20
STL
RW
10
3
7
10
-2
0
11.5
27
2018-19
STL
RW
76
33
35
68
8
22
12
26
2017-18
STL
RW
80
33
33
66
15
17
10.8
25
2016-17
STL
RW
82
39
36
75
-1
12
13.6
24
2015-16
STL
RW
80
40
34
74
7
37
13.7
23
2014-15
STL
RW
77
37
36
73
27
31
14
22
2013-14
STL
RW
64
21
22
43
20
16
15.4
21
2012-13
STL
RW
38
8
11
19
1
10
10.7
NHL season totals
606
252
272
524
8
177
12.3
VLADIMIR TARASENKO Hockey Cards
VLADIMIR TARASENKO
| ROOKIE GEMS
$20.00
VLADIMIR TARASENKO
| HOT ROOKIES
$5.00
VLADIMIR TARASENKO
| HOT ROOKIES
$12.00
VLADIMIR TARASENKO
| INTERNATIONAL
$1.50
VLADIMIR TARASENKO
| COMMON
$0.75
VLADIMIR TARASENKO
| COMMON
$1.50
VLADIMIR TARASENKO
| COMMON
$1.50
VLADIMIR TARASENKO
| COMMON
$1.25
VLADIMIR TARASENKO
| COMMON
$1.00
VLADIMIR TARASENKO
| ALL-STAR
$0.75
VLADIMIR TARASENKO
| COMMON
$1.25
COREY PERRY /VLADIMIR TARASENKO
| CHECKLIST
$1.25
VLADIMIR TARASENKO
| COMMON
$4.00
VLADIMIR TARASENKO
| COMMON
$1.00
VLADIMIR TARASENKO
| COMMON
$3.00
VLADIMIR TARASENKO
| COMMON
$4.00
VLADIMIR TARASENKO
| COMMON
$1.50
VLADIMIR TARASENKO
| COMMON
$0.75
VLADIMIR TARASENKO
| COMMON
$1.25
VLADIMIR TARASENKO
| COMMON
$4.00
VLADIMIR TARASENKO
| COMMON
$0.75
VLADIMIR TARASENKO
| COMMON
$1.50
VLADIMIR TARASENKO
| COMMON
$2.50
VLADIMIR TARASENKO
| COMMON
$1.25
VLADIMIR TARASENKO
| COMMON
$2.50
VLADIMIR TARASENKO
| COMMON
$1.00
VLADIMIR TARASENKO
| COMMON
$1.25
VLADIMIR TARASENKO
| COMMON
$2.00
VLADIMIR TARASENKO
| COMMON
$1.00
VLADIMIR TARASENKO
| COMMON
$1.50
VLADIMIR TARASENKO
| COMMON
$1.25
VLADIMIR TARASENKO
| COMMON
$1.00
VLADIMIR TARASENKO
| COMMON
$1.25
VLADIMIR TARASENKO
| COMMON
$1.00
VLADIMIR TARASENKO
| COMMON
$1.00
VLADIMIR TARASENKO
| COMMON
$1.25
VLADIMIR TARASENKO
| COMMON
$1.00
---