On Tophockeycards.com your hockey cards value for free. Bonus: Get hockey stats from your favorite hockey players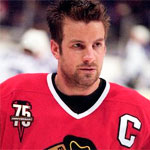 Anthony Lewis Amonte (born August 2, 1970) is a retired American professional ice hockey player. He played right wing in the National Hockey League (NHL).
Drafted 68th overall in the 1988 NHL Entry Draft by the New York Rangers, Tony Amonte is best known for his time as a scoring star with the Chicago Blackhawks. Tony Amonte impressed as a rookie, scoring over 30 goals and placing 3rd in the balloting for the Calder Trophy.
Tony Amonte scored his 400th NHL goal for the Flames on December 10, 2005. Tony Amonte is currently ranked eleventh all-time in points amongst American-born players. He announced his retirement via his personal website. On January 21, 2009, the Chicago Blackhawks celebrated Tony Amonte Heritage Night at the United Center. They awarded the first 10,000 fans with special commemorative Tony Amonte pins.
TONY AMONTE NHL Seasons Stats
Age
Season
Team
Pos
GP
G
A
PTS
+/-
PIM
Shot %
36
2006-07
CGY
RW
81
10
20
30
-4
40
7.2
35
2005-06
CGY
RW
80
14
28
42
3
43
9
33
2003-04
PHI
RW
80
20
33
53
13
38
11.6
31
2001-02
CHI
RW
82
27
39
66
11
67
11.6
30
2000-01
CHI
RW
82
35
29
64
-22
54
13.7
29
1999-00
CHI
RW
82
43
41
84
10
48
16.5
28
1998-99
CHI
RW
82
44
31
75
0
60
17.2
27
1997-98
CHI
RW
82
31
42
73
21
66
10.5
26
1996-97
CHI
RW
81
41
36
77
35
64
15.4
25
1995-96
CHI
RW
81
31
32
63
10
62
14.4
24
1994-95
CHI
RW
48
15
20
35
7
41
14.3
22
1992-93
NYR
RW
83
33
43
76
0
49
12.2
21
1991-92
NYR
RW
79
35
34
69
12
55
15
NHL season totals
1023
379
428
807
7
687
13
TONY AMONTE Hockey Cards
TONY AMONTE
| COMMON
$1.25
TONY AMONTE
| COMMON
$1.50
TONY AMONTE
| COMMON
$1.25
TONY AMONTE
| COMMON
$1.00
TONY AMONTE
| COMMON
$0.60
TONY AMONTE
| COMMON
$0.75
TONY AMONTE
| PROSPECT
$1.00
TONY AMONTE
| STAR ROOKIE
$1.25
TONY AMONTE
| LEADER
$1.25
TONY AMONTE /(MARK MESSIER
| IDOLS
$1.00
TONY AMONTE /STEVEN RICE/ DOUG WEIGHT
| CHECKLIST
$1.25
TONY AMONTE
| COMMON
$0.20
TONY AMONTE
| SENSATIONAL SOPHOMOR
$0.20
TONY AMONTE
| COMMON
$0.25
TONY AMONTE
| COMMON
$0.30
TONY AMONTE
| SEASON LEADER
$0.30
TONY AMONTE
| DREAM TEAM
$0.30
TONY AMONTE
| COMMON
$0.30
TONY AMONTE
| TEAM CHECKLIST
$0.15
TONY AMONTE
| COMMON
$0.20
TONY AMONTE
| ROOKIE REPORT
$0.15
MARK MESSIER/ TONY AMONTE/ ADAM GRAVES
| LEADER
$0.40
TONY AMONTE
| PROFILES
$0.15
TONY AMONTE
| COMMON
$0.30
TONY AMONTE
| COMMON
$0.30
TONY AMONTE
| COMMON
$0.25
TONY AMONTE
| COMMON
$0.60
TONY AMONTE
| COMMON
$0.40
TONY AMONTE
| COMMON
$0.40
TONY AMONTE
| COMMON
$0.40
TONY AMONTE
| COMMON
$1.00
TONY AMONTE
| COMMON
$0.40
TONY AMONTE
| COMMON
$0.40
TONY AMONTE
| COMMON
$0.30
TONY AMONTE
| COMMON
$0.60
TONY AMONTE
| COMMON
$0.60
TONY AMONTE
| COMMON
$0.40
TONY AMONTE
| COMMON
$0.60
TONY AMONTE
| COMMON
$0.60
TONY AMONTE
| COMMON
$0.75
TONY AMONTE
| COMMON
$0.40
TONY AMONTE
| COMMON
$0.40
TONY AMONTE
| COMMON
$0.40
TONY AMONTE
| COMMON
$0.75
TONY AMONTE
| COMMON
$0.60
TONY AMONTE
| COMMON
$0.40
TONY AMONTE
| COMMON
$0.75
TONY AMONTE
| COMMON
$0.60
TONY AMONTE
| COMMON
$0.60
TONY AMONTE
| COMMON
$0.50
TONY AMONTE
| COMMON
$0.40
TONY AMONTE
| COMMON
$0.40
TONY AMONTE
| COMMON
$0.40
TONY AMONTE
| COMMON
$0.40
TONY AMONTE
| COMMON
$0.40
TONY AMONTE
| HOCKEY HERO
$0.50
---