SERGEI FEDOROV Hockey Cards
On Tophockeycards.com your hockey cards value for free. Bonus: Get hockey stats from your favorite hockey players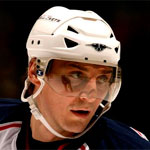 Sergei Viktorovich Fedorov (born December 13, 1969) is a Russian professional ice hockey forward and occasional defenceman.
Sergei Fedorov gained fame in the NHL for his unique style of play with the Detroit Red Wings, where he won 3 Stanley Cups. Sergei Fedorov played in over 1,200 NHL contests. On October 25, 2008, Fedorov passed Alexander Mogilny to set a record for most goals by a Russian-born NHL player, scoring his 473rd goal. Sergei Fedorov was also the first European-trained player to win the Hart Memorial Trophy in 1993–94 NHL season .
Sergei Fedorov was considered one of the best players in the world in the 1990s leading into early 2000s.
SERGEI FEDOROV NHL Seasons Stats
Age
Season
Team
Pos
GP
G
A
PTS
+/-
PIM
Shot %
39
2008-09
WSH
C
52
11
22
33
4
50
9.3
37
2006-07
CBJ
C
73
18
24
42
-7
56
11
34
2003-04
MDA
C
80
31
34
65
-5
42
11.6
33
2002-03
DET
C
80
36
47
83
15
52
12.8
32
2001-02
DET
C
81
31
37
68
20
36
12.1
31
2000-01
DET
C
75
32
37
69
12
40
11.9
30
1999-00
DET
C
68
27
35
62
8
22
10.3
29
1998-99
DET
C
77
26
37
63
9
66
11.6
28
1997-98
DET
RW
21
6
11
17
10
25
8.8
27
1996-97
DET
C
74
30
33
63
29
30
11
26
1995-96
DET
RW
78
39
68
107
49
48
12.7
25
1994-95
DET
C
42
20
30
50
6
24
13.6
24
1993-94
DET
C
82
56
64
120
48
34
16.6
23
1992-93
DET
C
73
34
53
87
33
72
15.7
22
1991-92
DET
C
80
32
54
86
26
72
12.9
21
1990-91
DET
C
77
31
48
79
11
66
12
NHL season totals
1113
460
634
1094
17
735
12.1
SERGEI FEDOROV Hockey Cards
SERGEI FEDOROV
| COMMON
$0.60
SERGEI FEDOROV
| YOUNG GUNS
$8.00
SERGEI FEDOROV /JOHAN GARPENLOV
| CHECKLIST
$1.00
SERGEI FEDOROV
| SUPER ROOKIE
$0.75
SERGEI FEDOROV
| COMMON
$0.75
SERGEI FEDOROV
| COMMON
$0.40
SERGEI FEDOROV
| ORIGINAL 6
$0.40
SERGEI FEDOROV
| COMMON
$0.75
SERGEI FEDOROV
| COMMON
$0.60
SERGEI FEDOROV
| COMMON
$0.40
SERGEI FEDOROV
| COMMON
$0.50
SERGEI FEDOROV
| ALL STAR
$0.50
SERGEI FEDOROV
| LEADER
$0.60
SERGEI FEDOROV
| ALL ROOKIE TEAM
$0.60
SERGEI FEDOROV
| COMMON
$0.60
SERGEI FEDOROV
| SOVIET STARS
$0.75
SERGEI FEDOROV
| ALL ROOKIE TEAM
$0.75
SERGEI FEDOROV
| TEAM CHECKLIST
$0.75
SERGEI FEDOROV
| COMMON
$0.75
SERGEI FEDOROV
| ALL-STAR
$0.75
SERGEI FEDOROV
| COMMON
$0.40
SERGEI FEDOROV
| INTERNATIONAL RISING
$0.40
SERGEI FEDOROV
| COMMON
$0.50
SERGEI FEDOROV
| COMMON
$0.60
SERGEI FEDOROV
| COMMON
$0.60
SERGEI FEDOROV
| COMMON
$0.40
SERGEI FEDOROV
| PROFILES
$0.40
SERGEI FEDOROV
| COMMON
$0.60
SERGEI FEDOROV
| COMMON
$1.50
SERGEI FEDOROV
| COMMON
$1.25
SERGEI FEDOROV
| COMMON
$0.60
SERGEI FEDOROV
| COMMON
$0.50
SERGEI FEDOROV
| COMMON
$0.75
SERGEI FEDOROV
| COMMON
$0.75
SERGEI FEDOROV
| COMMON
$0.75
SERGEI FEDOROV
| COMMON
$0.75
SERGEI FEDOROV
| COMMON
$0.75
SERGEI FEDOROV
| COMMON
$0.60
SERGEI FEDOROV
| COMMON
$1.25
SERGEI FEDOROV
| COMMON
$1.25
SERGEI FEDOROV
| COMMON
$0.75
SERGEI FEDOROV
| COMMON
$1.25
SERGEI FEDOROV
| COMMON
$2.00
SERGEI FEDOROV
| COMMON
$1.25
SERGEI FEDOROV
| COMMON
$1.50
SERGEI FEDOROV
| COMMON
$2.00
SERGEI FEDOROV
| COMMON
$0.75
SERGEI FEDOROV
| COMMON
$2.00
SERGEI FEDOROV
| COMMON
$0.75
SERGEI FEDOROV
| COMMON
$1.25
SERGEI FEDOROV
| COMMON
$0.75
SERGEI FEDOROV
| COMMON
$1.50
SERGEI FEDOROV
| COMMON
$1.00
SERGEI FEDOROV
| COMMON
$0.75
SERGEI FEDOROV
| COMMON
$0.75
SERGEI FEDOROV
| COMMON
$1.50
SERGEI FEDOROV
| JUMBO
$4.00
SERGEI FEDOROV
| COMMON
$1.50
SERGEI FEDOROV
| COMMON
$1.25
SERGEI FEDOROV
| COMMON
$1.25
SERGEI FEDOROV
| COMMON
$1.00
SERGEI FEDOROV
| COMMON
$1.00
SERGEI FEDOROV
| COMMON
$0.75
SERGEI FEDOROV
| COMMON
$0.75
SERGEI FEDOROV
| COMMON
$0.75
SERGEI FEDOROV
| COMMON
$1.50
SERGEI FEDOROV
| COMMON
$0.75
SERGEI FEDOROV
| COMMON
$0.75
SERGEI FEDOROV
| COMMON
$1.25
SERGEI FEDOROV
| COMMON
$1.25
SERGEI FEDOROV
| COMMON
$0.60
SERGEI FEDOROV
| COMMON
$1.25
SERGEI FEDOROV
| COMMON
$1.00
SERGEI FEDOROV
| COMMON
$0.75
SERGEI FEDOROV
| COMMON
$1.00
SERGEI FEDOROV
| COMMON
$1.25
SERGEI FEDOROV
| COMMON
$1.25
SERGEI FEDOROV
| COMMON
$1.00
SERGEI FEDOROV
| COMMON
$0.75
---