On Tophockeycards.com your hockey cards value for free. Bonus: Get hockey stats from your favorite hockey players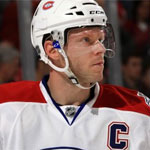 Saku Antero Koivu (born November 23, 1974) is a Finnish professional ice hockey player. Saku Koivu was drafted by the Montreal Canadiens in the 1993 NHL Entry Draft, following his rookie season in the SM-liiga, as their first-round selection (21st overall). In his first year, Saku Koivu ranked 4th in scoring amongst NHL rookies with 45 points. The following season, Koivu was among the NHL leading scorers before suffering a knee injury on December 7, 1996. He missed 32 games that season but returned to finish with 56 points in 50 games.
The next two seasons, Koivu acontinued to miss time with various leg injuries; however, in each year, he managed to play in more than 60 regular season games.Saku Koivu was named the 27th captain for the Canadiens on September 30, 1999.He also became the first European-born captain in team history. After six seasons in the NHL, Koivu was diagnosed with cancer. After a pause Koivu's contiue to play, demonstrated that he can still complement his linemates with seemingly no adverse impact to his performance.He reached the 500-point mark for his NHL career on January 9, 2007 and won King Clancy Memorial Trophy the same year.
SAKU KOIVU NHL Seasons Stats
Age
Season
Team
Pos
GP
G
A
PTS
+/-
PIM
Shot %
39
2013-14
ANA
C
65
11
18
29
3
46
13.6
38
2012-13
ANA
C
47
8
19
27
4
18
14.5
37
2011-12
ANA
C
74
11
27
38
7
50
10.3
36
2010-11
ANA
C
75
15
30
45
-8
36
14.4
35
2009-10
ANA
C
71
19
33
52
14
36
15.3
34
2008-09
MTL
C
65
16
34
50
4
44
13
33
2007-08
MTL
C
77
16
40
56
-4
93
10.7
32
2006-07
MTL
C
81
22
53
75
-21
74
14.3
31
2005-06
MTL
C
72
17
45
62
1
70
12.3
29
2003-04
MTL
C
68
14
41
55
-5
52
12.5
28
2002-03
MTL
C
82
21
50
71
5
72
14.3
27
2001-02
MTL
C
3
0
2
2
0
0
0
26
2000-01
MTL
C
54
17
30
47
2
40
15
25
1999-00
MTL
C
24
3
18
21
7
14
5.7
24
1998-99
MTL
C
65
14
30
44
-7
38
9.7
23
1997-98
MTL
C
69
14
43
57
8
48
9.7
22
1996-97
MTL
C
50
17
39
56
7
38
12.6
21
1995-96
MTL
C
82
20
25
45
-7
40
14.7
NHL season totals
1124
255
577
832
1
809
11.8
SAKU KOIVU Hockey Cards
SAKU KOIVU
| COMMON
$0.40
SAKU KOIVU
| COMMON
$1.00
SAKU KOIVU
| COMMON
$0.75
SAKU KOIVU
| COMMON
$0.40
SAKU KOIVU
| COMMON
$0.30
SAKU KOIVU
| COMMON
$0.75
SAKU KOIVU
| COMMON
$0.50
SAKU KOIVU
| COMMON
$0.50
SAKU KOIVU
| COMMON
$0.50
SAKU KOIVU
| STAR POWER
$0.75
SAKU KOIVU
| COMMON
$0.50
SAKU KOIVU
| COMMON
$0.50
SAKU KOIVU
| COMMON
$0.40
SAKU KOIVU
| COMMON
$0.75
SAKU KOIVU
| COMMON
$0.50
SAKU KOIVU
| COMMON
$0.75
SAKU KOIVU
| COMMON
$0.75
SAKU KOIVU
| COMMON
$1.00
SAKU KOIVU
| COMMON
$1.25
SAKU KOIVU
| COMMON
$0.50
SAKU KOIVU
| COMMON
$1.25
SAKU KOIVU
| COMMON
$0.50
SAKU KOIVU
| COMMON
$0.75
SAKU KOIVU
| COMMON
$0.50
SAKU KOIVU
| COMMON
$1.00
SAKU KOIVU
| COMMON
$0.75
SAKU KOIVU
| COMMON
$0.50
SAKU KOIVU
| COMMON
$1.00
SAKU KOIVU
| COMMON
$1.00
SAKU KOIVU
| COMMON
$0.75
SAKU KOIVU
| CAPTAINS
$0.75
SAKU KOIVU
| TEAM CHECKLIST
$0.75
SAKU KOIVU
| COMMON
$0.75
SAKU KOIVU
| COMMON
$0.60
SAKU KOIVU
| COMMON
$2.00
SAKU KOIVU
| COMMON
$0.50
SAKU KOIVU
| COMMON
$0.50
SAKU KOIVU
| COMMON
$1.00
SAKU KOIVU
| COMMON
$3.00
SAKU KOIVU
| COMMON
$0.50
SAKU KOIVU
| COMMON
$0.75
SAKU KOIVU
| COMMON
$0.50
SAKU KOIVU
| HALL WORTHY
$0.50
SAKU KOIVU
| TEAM CHECKLIST
$0.50
SAKU KOIVU
| COMMON
$0.75
SAKU KOIVU
| COMMON
$0.75
SAKU KOIVU
| COMMON
$0.40
SAKU KOIVU
| COMMON
$0.50
SAKU KOIVU
| COMMON
$0.75
SAKU KOIVU
| COMMON
$0.60
SAKU KOIVU
| COMMON
$0.50
SAKU KOIVU
| COMMON
$0.60
SAKU KOIVU
| COMMON
$1.25
SAKU KOIVU
| COMMON
$0.50
SAKU KOIVU
| COMMON
$1.25
SAKU KOIVU
| COMMON
$0.75
SAKU KOIVU
| COMMON
$2.00
SAKU KOIVU
| COMMON
$0.75
SAKU KOIVU
| COMMON
$0.60
SAKU KOIVU
| COMMON
$0.50
SAKU KOIVU
| COMMON
$0.50
SAKU KOIVU
| COMMON
$0.75
SAKU KOIVU
| COMMON
$0.75
SAKU KOIVU
| COMMON
$0.75
SAKU KOIVU
| COMMON
$0.50
SAKU KOIVU
| COMMON
$0.50
SAKU KOIVU
| COMMON
$0.50
SAKU KOIVU
| COMMON
$0.50
SAKU KOIVU
| COMMON
$0.60
SAKU KOIVU
| COMMON
$0.50
SAKU KOIVU
| COMMON
$0.40
SAKU KOIVU
| COMMON
$0.75
SAKU KOIVU
| COMMON
$0.60
SAKU KOIVU
| COMMON
$0.50
SAKU KOIVU
| COMMON
$0.40
SAKU KOIVU
| COMMON
$1.50
SAKU KOIVU
| COMMON
$0.75
SAKU KOIVU
| COMMON
$0.50
SAKU KOIVU
| COMMON
$0.60
---