ROD BRIND''AMOUR Hockey Cards
On Tophockeycards.com your hockey cards value for free. Bonus: Get hockey stats from your favorite hockey players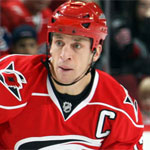 Roderic Jean Brind'Amour (born August 9, 1970) is a retired Canadian professional ice hockey centre who played 20 seasons in the National Hockey League (NHL). Rod Brind'Amour captained the Hurricanes to the franchise's first Stanley Cup championship in 2006.
Born in Ottawa but raised in Prince Rupert and Campbell River, British Columbia, Brind'Amour was drafted by the St. Louis Blues in the first round (ninth overall) of the 1988 NHL Entry Draft. Brind'Amour became well known for working out constantly, earning the nickname 'Rod the Bod'.
At the conclusion of the collegiate hockey season, Brind'Amour joined the Blues during the 1989 NHL playoffs. He made his debut in game 5 of the Blues' division semifinals against the Minnesota North Stars and scored a goal on his first shot. In his first full NHL season, Brind'Amour scored 27 points in the Blues' first 24 games and finished third on the Blues with 26 goals. Brind'Amour was selected to the 1989–90 All-Rookie Team. Rod Brind'Amour won the NHL Frank J. Selke Trophy in 2005-06 and 2006-07 season.
In December 2006, he scored his 1000th career point and in February 2007, he recorded his 400th career goal. He finished his professional career 18th all-time in games played. Following the 2009-10 season, Brind'Amour retired as a player, having played 1,484 career NHL games, and moved into Hurricanes team management as a director of forwards development.
ROD BRIND''AMOUR NHL Seasons Stats
Age
Season
Team
Pos
GP
G
A
PTS
+/-
PIM
Shot %
39
2009-10
CAR
C
80
9
10
19
-29
36
9.5
38
2008-09
CAR
C
80
16
35
51
-23
36
11.9
37
2007-08
CAR
C
59
19
32
51
0
38
12.6
36
2006-07
CAR
C
78
26
56
82
7
46
14.4
35
2005-06
CAR
C
78
31
39
70
8
68
15.7
33
2003-04
CAR
C
78
12
26
38
0
28
8.5
32
2002-03
CAR
C
48
14
23
37
-9
37
12.7
31
2001-02
CAR
C
81
23
32
55
3
40
14.2
30
2000-01
CAR
C
79
20
36
56
-7
47
12.3
28
1998-99
PHI
C
82
24
50
74
3
47
12.6
27
1997-98
PHI
LW
82
36
38
74
-2
54
17.6
26
1996-97
PHI
C
82
27
32
59
2
41
13.2
25
1995-96
PHI
LW
82
26
61
87
20
110
12.2
24
1994-95
PHI
C
48
12
27
39
-4
33
14
23
1993-94
PHI
LW
84
35
62
97
-9
85
15.2
22
1992-93
PHI
C
81
37
49
86
-8
89
18
21
1991-92
PHI
C
80
33
44
77
-3
100
16.3
20
1990-91
STL
LW
78
17
32
49
2
93
10.1
19
1989-90
STL
LW
79
26
35
61
23
46
16.3
NHL season totals
1439
443
719
1162
-1
1074
13.5
ROD BRIND''AMOUR Hockey Cards
ROD BRIND'AMOUR
| ERROR
$0.60
ROD BRIND'AMOUR
| COMMON
$0.75
ROD BRIND'AMOUR
| COMMON
$1.00
ROD BRIND'AMOUR
| ALL ROOKIE TEAM
$0.75
ROD BRIND'AMOUR
| ALL ROOKIE TEAM
$1.00
ROD BRIND'AMOUR
| COMMON
$0.40
ROD BRIND'AMOUR
| COMMON
$0.25
ROD BRIND'AMOUR
| COMMON
$0.40
ROD BRIND'AMOUR
| COMMON
$0.30
ROD BRIND'AMOUR
| ERROR
$0.20
ROD BRIND'AMOUR
| COMMON
$0.20
ROD BRIND'AMOUR
| COMMON
$0.25
ROD BRIND'AMOUR
| COMMON
$0.30
ROD BRIND'AMOUR
| COMMON
$0.30
ROD BRIND'AMOUR
| COMMON
$0.40
ROD BRIND'AMOUR
| COMMON
$0.40
ROD BRIND'AMOUR
| COMMON
$0.15
ROD BRIND'AMOUR
| COMMON
$0.20
ROD BRIND'AMOUR
| COMMON
$0.25
ROD BRIND'AMOUR
| COMMON
$0.25
ROD BRIND'AMOUR
| TEAM CHECKLIST
$0.15
ROD BRIND'AMOUR
| COMMON
$0.15
ROD BRIND'AMOUR
| COMMON
$0.30
ROD BRIND'AMOUR
| COMMON
$1.00
ROD BRIND'AMOUR
| COMMON
$0.40
ROD BRIND'AMOUR
| COMMON
$0.25
ROD BRIND'AMOUR
| COMMON
$0.50
ROD BRIND'AMOUR
| COMMON
$0.50
ROD BRIND'AMOUR
| COMMON
$0.50
ROD BRIND'AMOUR
| COMMON
$0.50
ROD BRIND'AMOUR
| COMMON
$0.40
ROD BRIND'AMOUR
| COMMON
$0.50
ROD BRIND'AMOUR
| COMMON
$1.00
ROD BRIND'AMOUR
| COMMON
$0.50
ROD BRIND'AMOUR
| COMMON
$0.50
ROD BRIND'AMOUR
| COMMON
$0.50
ROD BRIND'AMOUR
| COMMON
$0.50
ROD BRIND'AMOUR
| COMMON
$0.75
ROD BRIND'AMOUR
| COMMON
$0.60
ROD BRIND'AMOUR
| COMMON
$0.50
ROD BRIND'AMOUR
| COMMON
$0.50
ROD BRIND'AMOUR
| COMMON
$0.50
ROD BRIND'AMOUR
| COMMON
$0.75
ROD BRIND'AMOUR
| COMMON
$0.60
ROD BRIND'AMOUR
| COMMON
$4.00
ROD BRIND'AMOUR
| COMMON
$0.50
ROD BRIND'AMOUR
| COMMON
$0.60
ROD BRIND'AMOUR
| COMMON
$0.50
ROD BRIND'AMOUR
| COMMON
$0.75
ROD BRIND'AMOUR
| COMMON
$0.75
---