On Tophockeycards.com your hockey cards value for free. Bonus: Get hockey stats from your favorite hockey players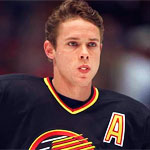 Pavel Vladimirovich Bure (born March 31, 1971) is a retired Russian professional ice hockey right winger. Nicknamed The Russian Rocket for his speed,Bure played 12 seasons in the National Hockey League (NHL). Trained in the Soviet Union, where he was known as Pasha, he played three seasons with the Central Red Army team before his NHL career. Selected 113th overall in the 1989 NHL Entry Draft by Vancouver, Pavel Bure began his NHL career in 1991–92 and won the Calder Memorial Trophy as the league's best rookie, then helped the Canucks to the Stanley Cup Finals in 1994.
Pavel Bure struggled with knee injuries throughout his career, resulting in his retirement in 2005 as a member of the Rangers, although he had not played since 2003. He averaged better than a point a game in his NHL career (779 points with 437 goals in 702 NHL games).
PAVEL BURE NHL Seasons Stats
Age
Season
Team
Pos
GP
G
A
PTS
+/-
PIM
Shot %
31
2002-03
NYR
RW
39
19
11
30
4
16
14
29
2000-01
FLA
RW
82
59
33
92
-2
58
15.4
28
1999-00
FLA
RW
74
58
36
94
25
16
16.1
27
1998-99
FLA
RW
11
13
3
16
3
4
29.5
26
1997-98
VAN
RW
82
51
39
90
5
48
15.5
25
1996-97
VAN
RW
63
23
32
55
-14
40
8.7
24
1995-96
VAN
LW
15
6
7
13
-2
8
7.7
23
1994-95
VAN
LW
44
20
23
43
-8
47
10.1
22
1993-94
VAN
RW
76
60
47
107
1
86
16
21
1992-93
VAN
RW
83
60
50
110
35
69
14.7
20
1991-92
VAN
RW
65
34
26
60
0
30
12.7
NHL season totals
634
403
307
710
4
422
14.6
PAVEL BURE Hockey Cards
PAVEL BURE
| YOUNG GUNS
$8.00
PAVEL BURE
| COMMON
$0.25
PAVEL BURE
| COMMON
$0.50
PAVEL BURE
| LEADER
$0.50
PAVEL BURE
| COMMON
$0.40
PAVEL BURE
| COMMON
$0.25
PAVEL BURE
| COMMON
$0.30
PAVEL BURE
| COMMON
$0.50
PAVEL BURE
| COMMON
$0.50
PAVEL BURE /VALERI BURE
| BLOODLINES
$0.50
PAVEL BURE
| COMMON
$0.25
PAVEL BURE
| SENSATIONAL SOPHOMOR
$0.25
PAVEL BURE
| ALL-STARS
$0.25
PAVEL BURE
| STANLEY CUP PLAYOFFS
$0.25
PAVEL BURE
| COMMON
$0.30
PAVEL BURE
| COMMON
$0.40
PAVEL BURE
| DREAM TEAM
$0.40
PAVEL BURE
| AWARD WINNER
$0.40
PAVEL BURE
| COMMON
$0.40
PAVEL BURE
| COMMON
$0.25
PAVEL BURE
| ROOKIE REPORT
$0.20
PAVEL BURE
| COMMON
$0.40
PAVEL BURE
| COMMON
$1.25
PAVEL BURE
| COMMON
$0.75
PAVEL BURE
| COMMON
$0.40
PAVEL BURE
| COMMON
$0.30
PAVEL BURE
| COMMON
$0.75
PAVEL BURE
| COMMON
$0.50
PAVEL BURE
| COMMON
$0.60
PAVEL BURE
| COMMON
$0.50
PAVEL BURE
| STAR POWER
$0.75
PAVEL BURE
| COMMON
$0.60
PAVEL BURE
| COMMON
$0.60
PAVEL BURE
| COMMON
$0.40
PAVEL BURE
| COMMON
$0.75
PAVEL BURE
| COMMON
$1.00
PAVEL BURE
| COMMON
$0.60
PAVEL BURE
| COMMON
$0.75
PAVEL BURE
| COMMON
$1.00
PAVEL BURE
| COMMON
$1.25
PAVEL BURE
| # 136/450
$3.00
PAVEL BURE
| COMMON
$1.50
PAVEL BURE
| COMMON
$0.50
PAVEL BURE
| COMMON
$0.50
PAVEL BURE
| COMMON
$0.50
PAVEL BURE
| COMMON
$0.50
PAVEL BURE
| AUTHENTIC MOMENTS
$2.00
PAVEL BURE
| COMMON
$1.50
PAVEL BURE
| COMMON
$1.00
PAVEL BURE
| COMMON
$1.50
---