On Tophockeycards.com your hockey cards value for free. Bonus: Get hockey stats from your favorite hockey players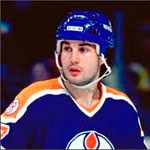 Paul Douglas Coffey (born June 1, 1961) is a Canadian retired professional ice hockey defenceman. Paul Coffey was drafted 6th overall by the Edmonton Oilers in the 1980 NHL Entry Draft. He blossomed in the 1981–82 season, scoring 89 points and was named a Second-Team NHL All-Star. In the Oilers' first Stanley Cup-winning season, 1983–84, he became only the second defenceman in NHL history to score 40 goals in a season. He won his first James Norris Trophy in 1984–85 while posting 121 points.
On October 26, 1984, Paul Coffey would be the last defenceman in the 20th century to score four goals in one game. Coffey went on to post a historic post-season in the 1985 Playoffs, setting records for most goals (12), assists (25), and points (37) in one playoff year by a defenceman on the way to another Stanley Cup. He won the Norris Trophy again in 1985–86, while breaking Bobby Orr's record for goals in a season by a defenceman, scoring 48. During Paul Coffey's last NHL season, Ray Bourque passed his career goals, assist and points records. Bourque and Coffey both retired after 2000–01 season. Paul Coffey is still second in all-time career scoring by a defenceman. Coffey, however, averaged more points per game than did Bourque. Paul Coffey was voted into the Hockey Hall of Fame in 2004 and the Edmonton Oilers retired his uniform number 7 in 2005.
PAUL COFFEY NHL Seasons Stats
Age
Season
Team
Pos
GP
G
A
PTS
+/-
PIM
Shot %
39
2000-01
BOS
D
18
0
4
4
-6
30
0
38
1999-00
CAR
D
69
11
29
40
-6
40
7.1
36
1997-98
PHI
D
57
2
27
29
3
30
1.9
34
1995-96
DET
D
76
14
60
74
19
90
6
33
1994-95
DET
D
45
14
44
58
18
72
7.7
32
1993-94
DET
D
80
14
63
77
28
106
5
29
1990-91
PIT
D
76
24
69
93
-18
128
10
28
1989-90
PIT
D
80
29
74
103
-25
95
9
27
1988-89
PIT
D
75
30
83
113
-10
195
8.8
26
1987-88
PIT
D
46
15
52
67
-1
93
7.8
25
1986-87
EDM
D
59
17
50
67
12
49
10.3
24
1985-86
EDM
D
79
48
90
138
61
120
15.6
23
1984-85
EDM
D
80
37
84
121
55
97
13
22
1983-84
EDM
D
80
40
86
126
52
104
15.5
21
1982-83
EDM
D
80
29
67
96
52
87
12
20
1981-82
EDM
D
80
29
60
89
35
106
11.2
19
1980-81
EDM
D
74
9
23
32
5
130
4.9
NHL season totals
1154
362
965
1327
16
1572
8.6
PAUL COFFEY Hockey Cards
PAUL COFFEY
| COMMON
$1.00
PAUL COFFEY
| ALL-STAR
$1.00
PAUL COFFEY
| COMMON
$1.50
PAUL COFFEY
| COMMON
$4.00
PAUL COFFEY
| COMMON
$1.25
PAUL COFFEY
| COMMON
$0.75
PAUL COFFEY
| COMMON
$0.30
PAUL COFFEY
| ALL STAR
$0.30
PAUL COFFEY
| COMMON
$0.40
PAUL COFFEY
| ALL-STAR
$0.40
PAUL COFFEY
| SPEEDSTER
$0.40
PAUL COFFEY
| COMMON
$0.50
PAUL COFFEY
| ALL STAR
$0.50
PAUL COFFEY
| COMMON
$0.40
PAUL COFFEY
| HIGHLIGHTS
$0.40
PAUL COFFEY
| COMMON
$0.25
PAUL COFFEY
| COMMON
$0.50
PAUL COFFEY
| 1000-POINT CLUB
$0.50
PAUL COFFEY
| ALL-STAR
$0.50
PAUL COFFEY
| COMMON
$0.50
PAUL COFFEY
| COMMON
$0.40
PAUL COFFEY
| COMMON
$0.25
PAUL COFFEY
| ALL-STAR
$0.25
PAUL COFFEY
| COMMON
$0.30
PAUL COFFEY
| COMMON
$0.30
PAUL COFFEY
| 1000-POINT CLUB
$0.30
PAUL COFFEY
| CANADA CUP
$0.50
PAUL COFFEY
| COMMON
$0.50
PAUL COFFEY /WAYNE GRETZKY
| CANADA CUP
$3.00
PAUL COFFEY
| ALL-STAR
$0.50
PAUL COFFEY
| COMMON
$0.50
PAUL COFFEY
| COMMON
$0.25
PAUL COFFEY
| COMMON
$0.25
PAUL COFFEY
| ALL-STARS
$0.25
PAUL COFFEY
| COMMON
$0.30
PAUL COFFEY
| COMMON
$0.40
PAUL COFFEY
| HIGHLIGHT
$0.40
PAUL COFFEY
| COMMON
$0.40
PAUL COFFEY
| COMMON
$0.25
PAUL COFFEY
| COMMON
$0.40
PAUL COFFEY
| COMMON
$1.00
PAUL COFFEY
| COMMON
$0.75
PAUL COFFEY
| COMMON
$0.40
PAUL COFFEY
| COMMON
$0.30
PAUL COFFEY
| COMMON
$0.50
PAUL COFFEY
| MARQUEE LEGEND
$2.00
PAUL COFFEY
| COMMON
$1.00
PAUL COFFEY
| MARQUEE LEGEND
$2.00
PAUL COFFEY
| COMMON
$3.00
PAUL COFFEY
| COMMON
$0.50
PAUL COFFEY
| COMMON
$2.00
PAUL COFFEY
| COMMON
$0.60
---