PATRICK KANE Hockey Cards
On Tophockeycards.com your hockey cards value for free. Bonus: Get hockey stats from your favorite hockey players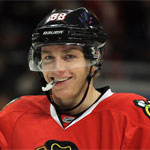 Patrick Timothy Kane II (born November 19, 1988) is an American professional ice hockey right wing/center for the Chicago Blackhawks of the National Hockey League (NHL). The Blackhawks selected him with the first overall pick in the 2007 NHL Entry Draft.
Patrick Kane made his NHL debut on October 4, 2007 against the Minnesota Wild, and had his first assist and first shootout goal, a game-winner, two days later against Dominik Hasek of the Detroit Red Wings. In the final season of his initial rookie contract, Kane signed a 5-year, reported $31.5 million extension to remain with the Blackhawks on December 3, 2009.
In the 2009–10 season, Kane finished with a career-high 88 points to rank 9th in the NHL in scoring. On June 9, 2010, Kane scored the overtime winner when he shot the puck under the pads of Flyers goalie Michael Leighton and into the net, winning the Blackhawks the Stanley Cup. The goal ended a 49-year Stanley Cup drought for the Blackhawks. It also made Kane the youngest person in NHL history to score a Stanley Cup winning goal in overtime; that title previously belonged to Bobby Orr in 1970.
PATRICK KANE NHL Seasons Stats
Age
Season
Team
Pos
GP
G
A
PTS
+/-
PIM
Shot %
33
2021-22
CHI
RW
78
26
66
92
-19
18
9.1
32
2020-21
CHI
RW
56
15
51
66
-7
14
7.9
31
2019-20
CHI
RW
70
33
51
84
8
40
12
30
2018-19
CHI
RW
81
44
66
110
2
22
12.9
29
2017-18
CHI
RW
82
27
49
76
-20
32
9.5
28
2016-17
CHI
RW
82
34
55
89
11
32
11.6
27
2015-16
CHI
RW
82
46
60
106
17
30
16
26
2014-15
CHI
RW
61
27
37
64
10
10
14.5
25
2013-14
CHI
RW
69
29
40
69
7
22
12.8
24
2012-13
CHI
RW
47
23
32
55
11
8
16.7
23
2011-12
CHI
RW
82
23
43
66
7
40
9.1
22
2010-11
CHI
RW
73
27
46
73
7
28
12.5
21
2009-10
CHI
RW
82
30
58
88
16
20
11.5
20
2008-09
CHI
RW
80
25
45
70
-2
42
9.8
19
2007-08
CHI
RW
82
21
51
72
-5
52
11
NHL season totals
1107
430
750
1180
3
410
11.8
PATRICK KANE Hockey Cards
PATRICK KANE
| ROOKIE
$30.00
PATRICK KANE
| COMMON
$1.00
PATRICK KANE
| COMMON
$2.50
PATRICK KANE
| COMMON
$1.50
PATRICK KANE
| COMMON
$5.00
PATRICK KANE
| COMMON
$5.00
PATRICK KANE
| COMMON
$1.25
PATRICK KANE
| COMMON
$1.25
PATRICK KANE
| COMMON
$3.00
PATRICK KANE
| COMMON
$1.00
PATRICK KANE
| COMMON
$1.50
PATRICK KANE
| COMMON
$1.50
PATRICK KANE
| COMMON
$1.50
PATRICK KANE
| COMMON
$2.00
PATRICK KANE
| COMMON
$6.00
PATRICK KANE
| COMMON
$1.00
PATRICK KANE
| COMMON
$1.00
PATRICK KANE
| HIGHLIGHT
$1.00
PATRICK KANE
| COMMON
$1.00
PATRICK KANE
| COMMON
$3.00
JONATHAN TOEWS / DUNCAN KEITH /PATRICK KANE
| CHECKLIST
$1.25
PATRICK KANE
| COMMON
$1.50
PATRICK KANE
| COMMON
$1.00
PATRICK KANE
| COMMON
$1.25
PATRICK KANE
| COMMON
$1.25
PATRICK KANE
| COMMON
$2.00
PATRICK KANE
| COMMON
$1.50
PATRICK KANE
| COMMON
$1.00
PATRICK KANE
| SEASON HIGHLIGHT
$0.75
PATRICK KANE
| COMMON
$0.75
PATRICK KANE
| COMMON
$8.00
SIDNEY CROSBY /STEVEN STAMKOS /PATRICK KANE
| CHECKLIST
$12.00
PATRICK KANE
| COMMON
$6.00
PATRICK KANE
| COMMON
$1.00
PATRICK KANE
| COMMON
$6.00
PATRICK KANE
| COMMON
$0.75
JONATHAN TOEWS /PATRICK KANE /BRANDON BOLLIG /COREY CRAWFORD
| TEAM LEADERS
$0.75
PATRICK KANE
| COMMON
$3.00
PATRICK KANE
| COMMON
$1.25
PATRICK KANE
| AUTHENTIC MOMENTS
$4.00
PATRICK KANE /JONATHAN TOEWS
| AUTHENTIC MOMENTS
$4.00
PATRICK KANE
| COMMON
$8.00
PATRICK KANE
| COMMON
$2.00
PATRICK KANE
| COMMON
$2.00
BRENT SEABROOK /COREY CRAWFORD /PATRICK KANE
| CHECKLIST
$1.50
PATRICK KANE
| COMMON
$1.50
PATRICK KANE
| COMMON
$1.00
PATRICK KANE
| COMMON
$2.00
PATRICK KANE
| (RED JERSEY)
$20.00
PATRICK KANE
| COMMON
$2.00
PATRICK KANE
| SHORT PRINT (BLACK JERSEY)
$30.00
PATRICK KANE
| COMMON
$1.50
PATRICK KANE
| SHORT PRINT
$5.00
PATRICK KANE
| ALL-STAR
$1.00
PATRICK KANE
| COMMON
$5.00
PATRICK KANE
| COMMON
$1.50
PATRICK KANE
| COMMON
$8.00
PATRICK KANE
| COMMON
$2.00
PATRICK KANE
| COMMON
$2.00
PATRICK KANE
| COMMON
$1.00
PATRICK KANE
| SEASON HIGHLIGHTS
$5.00
PATRICK KANE
| LEAGUE LEADERS
$5.00
PATRICK KANE
| COMMON
$1.50
PATRICK KANE
| COMMON
$1.00
PATRICK KANE
| COMMON
$2.00
PATRICK KANE
| COMMON
$2.50
PATRICK KANE
| COMMON
$1.50
PATRICK KANE
| COMMON
$3.00
PATRICK KANE
| COMMON
$1.25
PATRICK KANE
| COMMON
$1.25
PATRICK KANE
| COMMON
$3.00
PATRICK KANE
| COMMON
$1.25
PATRICK KANE
| COMMON
$0.75
PATRICK KANE
| COMMON
$1.00
PATRICK KANE
| SEASON HIGHLIGHTS
$2.50
PATRICK KANE
| COMMON
$2.00
PATRICK KANE
| COMMON
$1.25
PATRICK KANE
| COMMON
$1.00
PATRICK KANE
| SEASON HIGHLIGHTS
$2.50
PATRICK KANE
| COMMON
$1.00
PATRICK KANE
| COMMON
$1.50
PATRICK KANE /LEON DRAISAITL
| CHECKLIST
$2.50
PATRICK KANE
| ALL STAR
$1.50
PATRICK KANE
| COMMON
$3.00
PATRICK KANE
| SHORT PRINT
$2.00
PATRICK KANE
| COMMON
$1.25
PATRICK KANE
| COMMON
$3.00
PATRICK KANE
| COMMON
$1.25
PATRICK KANE
| SHORT PRINT
$2.50
PATRICK KANE
| COMMON
$2.00
PATRICK KANE
| COMMON
$3.00
---