PAT LAFONTAINE Hockey Cards
On Tophockeycards.com your hockey cards value for free. Bonus: Get hockey stats from your favorite hockey players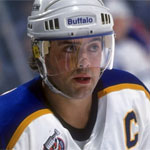 Patrick Michael LaFontaine (born February 22, 1965) is an American former ice hockey center in the NHL. Pat LaFontaine was selected by the Islanders in the 1st round as the 3rd pick overall in the 1983 NHL Entry Draft with the draft pick they had acquired from the Rockies.
Pat Lafontaine appeared in the Stanley Cup Finals in only his rookie season, although the Edmonton Oilers won the series and ended the Islanders' reign of four consecutive Stanley Cup Championships. In the 1987 playoffs, LaFontaine scored a famous goal in the 4th overtime period of the seventh and decisive game between the Islanders and Washington Capitals, known as the 'Easter Epic'. The game was started on Saturday, April 18, and concluded just before 2 a.m. on the 19, Easter Sunday. Pat LaFontaine exploded offensively in the 1992–93 season, the most points ever scored by an American-born player in one season. n the 1994–1995 season he was awarded the Bill Masterton Trophy as the player who best exemplifies the qualities of perseverance, sportsmanship, and dedication to ice hockey.
The 1996–97 season was the beginning of the end of his career. In a game against the Pittsburgh Penguins, LaFontaine was hammered with a high hit to the head, knocking him out with a concussion, and resulted in post-concussion syndrome. Pat LaFontaine announced his retirement formally on October 12, 1999. Since 2001, the Pat LaFontaine Trophy has been awarded to the winner of the Rangers-Islanders season series. Buffalo Sabres retired LaFontaine's number 16 and he was inducted into the Hockey Hall of Fame on November 3, 2003.
PAT LAFONTAINE NHL Seasons Stats
Age
Season
Team
Pos
GP
G
A
PTS
+/-
PIM
Shot %
32
1997-98
NYR
C
67
23
39
62
-16
36
14.4
31
1996-97
BUF
C
13
2
6
8
-8
4
5.3
30
1995-96
BUF
C
76
40
51
91
-8
36
17.9
29
1994-95
BUF
C
22
12
15
27
2
4
22.2
28
1993-94
BUF
C
16
5
13
18
-4
2
12.5
27
1992-93
BUF
C
84
53
95
148
11
63
17.3
26
1991-92
BUF
C
57
46
47
93
10
98
22.7
25
1990-91
NYI
C
75
41
44
85
-6
42
18.2
24
1989-90
NYI
C
74
54
51
105
-13
38
18.9
23
1988-89
NYI
C
79
45
43
88
-8
26
15.6
22
1987-88
NYI
C
75
47
45
92
12
52
19.4
21
1986-87
NYI
C
80
38
32
70
-10
70
17.4
20
1985-86
NYI
C
65
30
23
53
16
43
17.4
19
1984-85
NYI
C
67
19
35
54
9
32
11
18
1983-84
NYI
C
15
13
6
19
9
6
37.1
NHL season totals
865
468
545
1013
0
552
17.8
PAT LAFONTAINE Hockey Cards
PAT LAFONTAINE
| COMMON
$6.00
PAT LAFONTAINE
| COMMON
$1.50
PAT LAFONTAINE
| COMMON
$0.75
PAT LAFONTAINE
| COMMON
$0.60
PAT LAFONTAINE
| COMMON
$0.75
PAT LAFONTAINE
| COMMON
$0.30
PAT LAFONTAINE
| ALL STAR
$0.30
PAT LAFONTAINE
| COMMON
$0.40
PAT LAFONTAINE
| COMMON
$0.50
PAT LAFONTAINE
| TEAM CHECKLIST
$0.50
PAT LAFONTAINE
| ALL STAR
$0.50
PAT LAFONTAINE
| COMMON
$0.50
PAT LAFONTAINE
| COMMON
$0.25
PAT LAFONTAINE
| COMMON
$0.50
PAT LAFONTAINE
| COMMON
$0.40
PAT LAFONTAINE
| COMMON
$0.25
PAT LAFONTAINE
| ALL-STAR
$0.25
PAT LAFONTAINE
| COMMON
$0.25
PAT LAFONTAINE
| COMMON
$0.30
PAT LAFONTAINE
| FRANCHISE
$0.40
PAT LAFONTAINE
| COMMON
$0.40
PAT LAFONTAINE
| COMMON
$0.50
PAT LAFONTAINE
| COMMON
$0.50
PAT LAFONTAINE
| COMMON
$0.25
PAT LAFONTAINE
| COMMON
$0.30
PAT LAFONTAINE
| GOOD GUY
$0.30
PAT LAFONTAINE
| COMMON
$0.40
PAT LAFONTAINE
| FRANCHISE
$0.40
PAT LAFONTAINE
| COMMON
$0.40
PAT LAFONTAINE
| COMMON
$0.25
PAT LAFONTAINE
| COMMON
$0.40
PAT LAFONTAINE
| COMMON
$1.00
PAT LAFONTAINE
| COMMON
$0.75
PAT LAFONTAINE
| COMMON
$0.40
PAT LAFONTAINE
| COMMON
$0.30
PAT LAFONTAINE
| LEGENDS
$2.00
PAT LAFONTAINE
| COMMON
$1.00
PAT LAFONTAINE
| COMMON
$1.50
---