On Tophockeycards.com your hockey cards value for free. Bonus: Get hockey stats from your favorite hockey players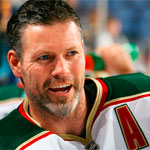 Owen Liam Nolan (born February 12, 1972) is a Irish-born Canadian professional ice hockey player.Owen Nolan was drafted first overall by the Quebec Nordiques in the 1990 NHL Entry Draft, and played with them until nine games into the 1995–1996 season (this was the first season the team played in Colorado as the 'Avalanche'), when he was traded to the San Jose Sharks. During his tenure with the Sharks he was named captain, and registered his best career year in 1999–2000, finishing with 84 points, and tied for second in the NHL with 44 goals.
In the 1997 NHL All-Star Game, playing in front of his home crowd in San Jose, Owen Nolan performed a 'Called Shot'. Nolan pointed to the top corner of the net during a breakaway and promptly scored there against goaltender Dominik Hasek, to complete a hat trick.
OWEN NOLAN NHL Seasons Stats
Age
Season
Team
Pos
GP
G
A
PTS
+/-
PIM
Shot %
37
2009-10
MIN
RW
73
16
17
33
-12
40
10.6
36
2008-09
MIN
RW
59
25
20
45
5
26
16.9
35
2007-08
CGY
RW
77
16
16
32
6
71
9.8
34
2006-07
PHX
RW
76
16
24
40
-2
56
10.4
31
2003-04
TOR
RW
65
19
29
48
4
110
12.3
29
2001-02
SJS
C
75
23
43
66
7
93
10.6
28
2000-01
SJS
RW
57
24
25
49
0
75
12.6
27
1999-00
SJS
RW
78
44
40
84
-1
110
16.9
26
1998-99
SJS
RW
78
19
26
45
16
129
9.2
25
1997-98
SJS
RW
75
14
27
41
-2
144
7.3
24
1996-97
SJS
RW
72
31
32
63
-19
155
13.8
22
1994-95
QUE
RW
46
30
19
49
21
46
21.9
21
1993-94
QUE
RW
6
2
2
4
2
8
13.3
20
1992-93
QUE
RW
73
36
41
77
-1
185
14.9
19
1991-92
QUE
RW
75
42
31
73
-9
183
22.1
18
1990-91
QUE
RW
59
3
10
13
-19
109
5.6
NHL season totals
1044
360
402
762
0
1540
13
OWEN NOLAN Hockey Cards
OWEN NOLAN
| COMMON
$1.00
OWEN NOLAN
| FIRST ROUND DRAFT CHOICE 1990
$1.25
OWEN NOLAN
| COMMON
$1.50
OWEN NOLAN
| COMMON
$1.00
OWEN NOLAN
| COMMON
$0.50
OWEN NOLAN
| COMMON
$0.25
OWEN NOLAN
| COMMON
$0.50
OWEN NOLAN
| COMMON
$0.40
OWEN NOLAN
| COMMON
$0.25
OWEN NOLAN
| COMMON
$0.30
OWEN NOLAN
| COMMON
$0.40
OWEN NOLAN
| COMMON
$0.50
OWEN NOLAN
| ALL-STAR
$0.50
OWEN NOLAN
| COMMON
$0.25
OWEN NOLAN
| INTERNATIONAL RISING STAR
$0.25
OWEN NOLAN
| COMMON
$0.30
OWEN NOLAN
| COMMON
$0.40
OWEN NOLAN
| COMMON
$0.40
OWEN NOLAN
| TEAM CHECKLIST
$0.15
OWEN NOLAN
| COMMON
$0.15
OWEN NOLAN
| COMMON
$0.40
OWEN NOLAN
| COMMON
$1.00
OWEN NOLAN
| COMMON
$0.75
OWEN NOLAN
| COMMON
$0.40
OWEN NOLAN
| COMMON
$0.25
OWEN NOLAN
| COMMON
$0.50
OWEN NOLAN
| COMMON
$0.50
OWEN NOLAN
| COMMON
$0.50
OWEN NOLAN
| COMMON
$0.50
OWEN NOLAN
| COMMON
$0.40
OWEN NOLAN
| COMMON
$0.75
OWEN NOLAN
| COMMON
$0.50
OWEN NOLAN
| COMMON
$0.75
OWEN NOLAN
| COMMON
$1.25
OWEN NOLAN
| COMMON
$0.50
OWEN NOLAN
| COMMON
$1.00
OWEN NOLAN
| COMMON
$0.50
OWEN NOLAN
| COMMON
$1.50
OWEN NOLAN
| COMMON
$1.00
OWEN NOLAN
| COMMON
$0.75
OWEN NOLAN
| COMMON
$0.40
OWEN NOLAN
| COMMON
$1.00
OWEN NOLAN
| COMMON
$0.60
OWEN NOLAN
| COMMON
$0.50
OWEN NOLAN
| COMMON
$0.50
OWEN NOLAN
| COMMON
$1.00
OWEN NOLAN
| COMMON
$0.40
OWEN NOLAN
| COMMON
$0.75
OWEN NOLAN
| COMMON
$0.40
OWEN NOLAN
| COMMON
$0.60
OWEN NOLAN
| COMMON
$0.50
OWEN NOLAN
| COMMON
$0.60
OWEN NOLAN
| COMMON
$0.60
OWEN NOLAN
| COMMON
$0.40
OWEN NOLAN
| COMMON
$0.40
OWEN NOLAN
| COMMON
$2.50
OWEN NOLAN
| COMMON
$0.60
OWEN NOLAN
| COMMON
$0.50
OWEN NOLAN
| COMMON
$0.50
OWEN NOLAN
| COMMON
$0.75
OWEN NOLAN
| COMMON
$0.75
---