On Tophockeycards.com your hockey cards value for free. Bonus: Get hockey stats from your favorite hockey players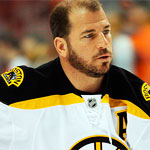 Mark Louis Recchi (born February 1, 1968) is a Canadian former professional ice hockey right winger who played 22 years in the National Hockey League (NHL), beginning in 1988 and ending in 2011. Mark Recchi was drafted by the Pittsburgh Penguins 67th overall, first playing in the NHL 1988, and was a key player in their Stanley Cup winning side in 1991.
During the 1999–2000 season, Mark recchi was a finalist for the Lester B. Pearson trophy as NHLPA MVP and he finished third in scoring. In 2000, he was named 'Kamloops Male Athlete of the 20th Century', and had a street named 'Mark Recchi Way' in his honour. On January 20, 2007, Mar Recchi scored his 7th career hat trick and just under a week later, Recchi scored his 500th career goal on January 26, 2007. In Game 2 of the 2011 Stanley Cup Finals, Mark Recchi became the oldest ever player to score a goal in a Stanley Cup Final, doing so at the age of 43. On June 15, 2011, Recchi became a three-time winner of the Stanley Cup and winning three Stanley Cups with three different teams. Mark Recchi announced his retirement as an NHL player, finishing his career 4th all-time in games played and 12th all-time in points.
MARK RECCHI NHL Seasons Stats
Age
Season
Team
Pos
GP
G
A
PTS
+/-
PIM
Shot %
42
2010-11
BOS
RW
81
14
34
48
13
35
10.6
41
2009-10
BOS
RW
81
18
25
43
4
34
11.8
38
2006-07
PIT
RW
82
24
44
68
1
62
12.6
35
2003-04
PHI
LW
82
26
49
75
18
47
15.6
34
2002-03
PHI
RW
79
20
32
52
0
35
11.7
33
2001-02
PHI
RW
80
22
42
64
5
46
10.7
32
2000-01
PHI
RW
69
27
50
77
15
33
14.1
31
1999-00
PHI
RW
82
28
63
91
20
50
12.6
29
1997-98
MTL
RW
82
32
42
74
11
51
14.8
28
1996-97
MTL
RW
82
34
46
80
-1
58
16.8
27
1995-96
MTL
RW
82
28
50
78
20
69
14.7
25
1993-94
PHI
C
84
40
67
107
-2
46
18.4
24
1992-93
PHI
RW
84
53
70
123
1
95
19.3
22
1990-91
PIT
RW
78
40
73
113
0
48
21.7
21
1989-90
PIT
RW
74
30
37
67
6
44
21
20
1988-89
PIT
RW
15
1
1
2
-2
0
9.1
NHL season totals
1217
437
725
1162
7
753
14.7
MARK RECCHI Hockey Cards
MARK RECCHI
| COMMON
$1.00
MARK RECCHI
| COMMON
$1.25
MARK RECCHI
| COMMON
$1.50
MARK RECCHI
| ALL STAR
$1.50
MARK RECCHI
| COMMON
$0.60
MARK RECCHI
| COMMON
$0.60
MARK RECCHI
| COMMON
$0.60
MARK RECCHI
| COMMON
$0.50
MARK RECCHI
| GAMEWINNERS
$0.50
MARK RECCHI
| COMMON
$0.30
MARK RECCHI
| ALL-STAR
$0.30
MARK RECCHI
| COMMON
$0.40
MARK RECCHI
| COMMON
$0.50
MARK RECCHI
| TEAM CHECKLIST
$0.60
MARK RECCHI
| COMMON
$0.60
MARK RECCHI
| COMMON
$0.30
MARK RECCHI
| COMMON
$0.40
MARK RECCHI
| COMMON
$0.50
MARK RECCHI
| COMMON
$0.50
MARK RECCHI
| COMMON
$0.30
MARK RECCHI
| COMMON
$0.50
MARK RECCHI
| COMMON
$1.25
MARK RECCHI
| COMMON
$0.50
MARK RECCHI
| COMMON
$0.25
MARK RECCHI
| GM CHOICE
$0.15
MARK RECCHI
| COMMON
$0.60
MARK RECCHI
| COMMON
$0.60
MARK RECCHI
| COMMON
$0.60
MARK RECCHI
| COMMON
$0.60
MARK RECCHI
| COMMON
$0.60
MARK RECCHI
| COMMON
$0.50
MARK RECCHI
| COMMON
$0.60
MARK RECCHI
| COMMON
$1.00
MARK RECCHI
| COMMON
$1.50
MARK RECCHI
| COMMON
$0.60
MARK RECCHI
| COMMON
$1.00
MARK RECCHI
| # 389/575
$4.00
MARK RECCHI
| COMMON
$0.60
MARK RECCHI
| COMMON
$0.60
MARK RECCHI
| COMMON
$0.60
MARK RECCHI
| COMMON
$1.25
MARK RECCHI
| COMMON
$1.00
MARK RECCHI
| COMMON
$1.00
MARK RECCHI
| COMMON
$0.75
MARK RECCHI
| COMMON
$0.60
MARK RECCHI
| COMMON
$0.60
MARK RECCHI
| COMMON
$1.25
MARK RECCHI
| COMMON
$0.60
MARK RECCHI
| HALL WORTHY
$0.60
MARK RECCHI
| COMMON
$1.00
MARK RECCHI
| COMMON
$0.60
MARK RECCHI
| COMMON
$0.75
MARK RECCHI
| COMMON
$0.60
MARK RECCHI
| COMMON
$0.75
MARK RECCHI
| COMMON
$0.60
MARK RECCHI
| COMMON
$1.00
MARK RECCHI
| COMMON
$0.75
MARK RECCHI
| COMMON
$0.60
MARK RECCHI
| COMMON
$1.00
MARK RECCHI
| COMMON
$0.60
MARK RECCHI
| COMMON
$0.60
MARK RECCHI
| COMMON
$0.60
MARK RECCHI
| COMMON
$2.00
MARK RECCHI
| COMMON
$1.25
MARK RECCHI
| COMMON
$1.50
---