JORDAN STAAL Hockey Cards
On Tophockeycards.com your hockey cards value for free. Bonus: Get hockey stats from your favorite hockey players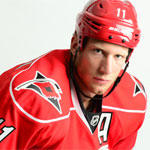 Jordan Staal (born September 10, 1988) is a Canadian professional ice hockey player. He is regarded as one of the NHL's premier penalty-killers, both for his strong defensive skills, along with his scoring touch that makes him a threat for shorthanded goals.
Jordan Staal was drafted second overall by the Penguins in the 2006 NHL Entry Draft. He made the immediate jump from junior to the NHL after being drafted and set several NHL records in his rookie season, including youngest player to score on a penalty shot, to score two shorthanded goals in one game, to score a hat trick, and the most shorthanded goals by a rookie in one season. Staal was also a Calder Memorial Trophy nominee and was named to the NHL All-Rookie Team.
Among his former Penguins teammates, Staal was known as 'Gronk'. The nickname, which is a reference to the Marvel comic book supervillain, was given to him by former Penguins teammate Colby Armstrong, because of his strong and large on-ice presence.
On July 1, 2012, Jordan signed a 10 year, $60 million extension with the Carolina Hurricanes. He had received exactly the same offer from the Pittsburgh Penguins but declined it.
JORDAN STAAL NHL Seasons Stats
Age
Season
Team
Pos
GP
G
A
PTS
+/-
PIM
Shot %
33
2021-22
CAR
C
78
17
19
36
11
18
11.6
32
2020-21
CAR
C
53
16
22
38
2
30
15.5
31
2019-20
CAR
C
68
8
19
27
3
40
6.4
30
2018-19
CAR
C
50
11
17
28
6
26
9.1
29
2017-18
CAR
C
79
19
27
46
-4
26
11.9
28
2016-17
CAR
C
75
16
29
45
-1
38
9.8
27
2015-16
CAR
C
82
20
28
48
6
34
13.2
26
2014-15
CAR
C
46
6
18
24
-6
14
6.5
25
2013-14
CAR
C
82
15
25
40
2
34
9.1
24
2012-13
CAR
C
48
10
21
31
-18
32
8.8
23
2011-12
PIT
C
62
25
25
50
11
34
16.8
22
2010-11
PIT
C
42
11
19
30
7
24
12.1
21
2009-10
PIT
C
82
21
28
49
19
57
10.8
20
2008-09
PIT
C
82
22
27
49
5
37
13.3
19
2007-08
PIT
C
82
12
16
28
-5
55
6.6
18
2006-07
PIT
C
81
29
13
42
16
24
22.1
NHL season totals
1092
258
353
611
3
523
11.5
JORDAN STAAL Hockey Cards
JORDAN STAAL
| COMMON
$6.00
JORDAN STAAL
| YOUNG GUNS
$15.00
COREY PERRY /JORDAN STAAL
| ROOKIE SHOWDOWN
$3.00
JORDAN STAAL
| COMMON
$0.50
JORDAN STAAL
| COMMON
$0.60
JORDAN STAAL
| COMMON
$0.50
JORDAN STAAL
| COMMON
$2.00
JORDAN STAAL
| COMMON
$0.40
JORDAN STAAL
| COMMON
$0.50
JORDAN STAAL
| COMMON
$0.50
JORDAN STAAL
| COMMON
$1.25
JORDAN STAAL
| COMMON
$0.75
JORDAN STAAL
| COMMON
$5.00
JORDAN STAAL
| COMMON
$0.60
JORDAN STAAL
| COMMON
$0.60
JORDAN STAAL
| COMMON
$0.50
JORDAN STAAL
| COMMON
$0.75
JORDAN STAAL
| COMMON
$0.75
JORDAN STAAL
| COMMON
$0.60
JORDAN STAAL
| COMMON
$0.75
JORDAN STAAL
| COMMON
$0.40
JORDAN STAAL
| COMMON
$0.40
JORDAN STAAL
| HIGHLIGHT
$0.40
JORDAN STAAL
| COMMON
$0.40
JORDAN STAAL
| COMMON
$0.60
JORDAN STAAL
| COMMON
$0.60
JORDAN STAAL
| COMMON
$0.50
JORDAN STAAL
| COMMON
$0.60
JORDAN STAAL
| COMMON
$0.60
JORDAN STAAL
| COMMON
$1.00
JORDAN STAAL
| COMMON
$0.50
JORDAN STAAL
| COMMON
$0.40
JORDAN STAAL
| COMMON
$4.00
JORDAN STAAL
| COMMON
$1.25
JORDAN STAAL
| COMMON
$0.50
JORDAN STAAL
| COMMON
$0.30
JORDAN STAAL
| COMMON
$1.25
JORDAN STAAL
| COMMON
$0.50
JORDAN STAAL
| COMMON
$0.60
JORDAN STAAL
| COMMON
$0.40
JORDAN STAAL
| COMMON
$0.60
JORDAN STAAL
| COMMON
$0.40
JORDAN STAAL
| COMMON
$0.60
JORDAN STAAL
| COMMON
$1.00
JORDAN STAAL
| COMMON
$0.40
JORDAN STAAL
| COMMON
$0.60
JORDAN STAAL
| COMMON
$0.40
JORDAN STAAL
| COMMON
$0.60
JORDAN STAAL
| COMMON
$0.50
JORDAN STAAL
| COMMON
$0.75
JORDAN STAAL
| COMMON
$0.50
JORDAN STAAL
| COMMON
$0.60
JORDAN STAAL
| COMMON
$0.50
JORDAN STAAL
| COMMON
$0.50
JORDAN STAAL
| COMMON
$0.60
JORDAN STAAL
| COMMON
$0.50
JORDAN STAAL
| COMMON
$0.50
JORDAN STAAL
| COMMON
$0.60
JORDAN STAAL
| COMMON
$0.50
JORDAN STAAL
| COMMON
$0.60
JORDAN STAAL
| COMMON
$0.50
JORDAN STAAL
| COMMON
$0.50
---