On Tophockeycards.com your hockey cards value for free. Bonus: Get hockey stats from your favorite hockey players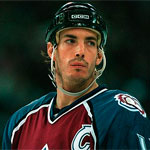 Joseph Steven Sakic (born July 7, 1969) is a former Canadian professional ice hockey player and current hockey executive. He played his entire NHL career with the Quebec Nordiques/Colorado Avalanche franchise. In his 20-year tenure, Joe Sakic won the Stanley Cup twice, captured numerous NHL trophies, and was voted into 13 NHL All-Star Games. Named captain of the team in 1992 (after serving as a co-captain in 1990–91), Joe Sakic is regarded as one of the greatest players of all time and one of the strongest team leaders in the league's history as he was able to motivate his team throughout his career to play at a winning level.
Joe Sakic wrist shot, considered one of the best in the NHL, was the source of much of his production as goalies around the league feared this shot. At the conclusion of the 2008–09 NHL season, he was the eighth all-time points leader in the NHL, as well as 14th in all-time goals and 11th in all-time assists.
JOE SAKIC NHL Seasons Stats
Age
Season
Team
Pos
GP
G
A
PTS
+/-
PIM
Shot %
39
2008-09
COL
C
15
2
10
12
-6
6
4.3
38
2007-08
COL
C
44
13
27
40
-4
20
10.5
37
2006-07
COL
C
82
36
64
100
2
46
14
36
2005-06
COL
C
82
32
55
87
10
60
12.2
34
2003-04
COL
C
81
33
54
87
11
42
13
33
2002-03
COL
C
58
26
32
58
4
24
13.7
32
2001-02
COL
C
82
26
53
79
12
18
10
31
2000-01
COL
C
82
54
64
118
45
30
16.3
30
1999-00
COL
C
60
28
53
81
30
28
11.6
29
1998-99
COL
C
73
41
55
96
23
29
16.1
28
1997-98
COL
C
64
27
36
63
0
50
10.6
27
1996-97
COL
C
65
22
52
74
-10
34
8.4
26
1995-96
COL
C
82
51
69
120
14
44
15
25
1994-95
QUE
C
47
19
43
62
7
30
12.1
24
1993-94
QUE
C
84
28
64
92
-8
18
10
23
1992-93
QUE
C
78
48
57
105
-3
40
18.2
22
1991-92
QUE
C
69
29
65
94
5
20
13.4
21
1990-91
QUE
C
80
48
61
109
-26
24
19.6
20
1989-90
QUE
C
80
39
63
102
-40
27
16.7
19
1988-89
QUE
C
70
23
39
62
-36
24
15.5
NHL season totals
1378
625
1016
1641
2
614
13.1
JOE SAKIC Hockey Cards
JOE SAKIC
| COMMON
$20.00
JOE SAKIC
| ALL STAR
$1.00
JOE SAKIC
| TEAM CHECKLIST
$1.50
JOE SAKIC
| ALL STAR
$1.50
JOE SAKIC /WAYNE GRETZKY
| IDOLS
$2.50
JOE SAKIC
| ALL-STAR
$0.75
JOE SAKIC
| FRANCHISE
$1.25
JOE SAKIC
| ALL-STAR
$1.50
JOE SAKIC
| FRANCHISE
$0.75
JOE SAKIC/ BRIAN SAKIC
| BLOODLINES
$0.50
JOE SAKIC
| GM CHOICE
$0.30
JOE SAKIC
| COMMON
$12.00
JOE SAKIC
| STAR POWER
$1.50
JOE SAKIC
| COMMON
$20.00
JOE SAKIC
| CAPTAINS
$1.50
JOE SAKIC
| NORTHERN STARS
$1.50
JOE SAKIC
| TEAM CHECKLIST
$1.50
JOE SAKIC
| CHECKLIST
$0.75
JOE SAKIC
| HALL WORTHY
$1.00
JOE SAKIC
| TEAM CHECKLIST
$1.00
JOE SAKIC
| HIGHLIGHT
$1.00
JOE SAKIC
| MARQUEE LEGEND
$4.00
JOE SAKIC
| IMMORTALS
$5.00
JOE SAKIC
| MARQUEE ROOKIE
$4.00
JOE SAKIC
| SHORT PRINT
$5.00
JOE SAKIC
| COMMON
$10.00
JOE SAKIC
| MARQUEE LEGENDS
$2.00
---