On Tophockeycards.com your hockey cards value for free. Bonus: Get hockey stats from your favorite hockey players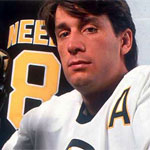 Cameron Michael Neely (born June 6, 1965) is a retired Canadian professional ice hockey player. Cam Neely was was drafted by the Vancouver Canucks ninth overall in the 1983 entry draft. Cam Neely's success stemmed largely from his hard, accurate shot, quick release, and his willingness to engage in the more physical aspects of the game. At 6 ft 1 in and 215 lb, Neely was as devastating with his body checks and fists as he was with his goal scoring exploits. He became the archetype of the ultimate power forward and earned the nickname 'Bam-Bam Cam'. In draft after draft, general managers looking for a combination of toughness and talent would say that they needed to find a 'Cam Neely' type.
Only Wayne Gretzky, Mario Lemieux, and Brett Hull scored a better goals per game average over the course of an NHL season than Neely did with his 50-goals-in-44-games in the 1993–94 season. Also, only ten players in NHL history scored a better goals per game average over their career than Neely. His #8 jersey has been retired by the Bruins, making him the tenth player to have a number retired by the team. Neely was inducted into the Hockey Hall of Fame in 2005.
CAM NEELY NHL Seasons Stats
Age
Season
Team
Pos
GP
G
A
PTS
+/-
PIM
Shot %
30
1995-96
BOS
RW
49
26
20
46
3
31
13.6
29
1994-95
BOS
RW
42
27
14
41
7
72
15.2
28
1993-94
BOS
RW
49
50
24
74
12
54
27
27
1992-93
BOS
RW
13
11
7
18
4
25
24.4
26
1991-92
BOS
RW
9
9
3
12
9
16
30
25
1990-91
BOS
RW
69
51
40
91
26
98
19.5
24
1989-90
BOS
RW
76
55
37
92
10
117
20.3
23
1988-89
BOS
RW
74
37
38
75
14
190
15.7
22
1987-88
BOS
RW
69
42
27
69
30
175
20.3
21
1986-87
BOS
RW
75
36
36
72
23
143
17.5
20
1985-86
VAN
RW
73
14
20
34
-30
126
12.4
19
1984-85
VAN
RW
72
21
18
39
-26
137
15.2
18
1983-84
VAN
RW
56
16
15
31
0
57
18.4
NHL season totals
726
395
299
694
6
1241
19.2
CAM NEELY Hockey Cards
CAM NEELY
| ALL STAR
$0.30
CAM NEELY
| ALL-STAR
$0.40
CAM NEELY
| ALL STAR
$0.50
CAM NEELY
| ALL-STAR
$0.50
CAM NEELY
| ALL-STAR
$0.25
CAM NEELY
| CRUNCH CREW
$0.40
CAM NEELY
| TEAM CHECKLIST
$0.50
CAM NEELY
| LEGENDS
$2.00
CAM NEELY
| LEGENDS
$2.00
CAM NEELY
| HOCKEY HERO
$0.60
CAM NEELY
| MARQUEE LEGEND
$2.00
CAM NEELY
| MARQUEE LEGEND
$2.00
CAM NEELY
| MARQUEE LEGENDS
$1.00
---