STEPHANE RICHER Hockey Cards
On Tophockeycards.com your hockey cards value for free. Bonus: Get hockey stats from your favorite hockey players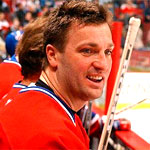 Stéphane Jean-Jacques Richer (born June 7, 1966) is a retired professional ice hockey left winger.
Richer was drafted 29th overall by the Montreal Canadiens in the 1984 NHL Entry Draft. Stephane Richer won the Calder Cup in 1985. He also won the Stanley Cup with the Montreal Canadiens in 1986 and with the New Jersey Devils in 1995.
Stephane Richer was known to have one of the hardest shots in the NHL during his playing days, coupled with an extremely quick release. Unlike many other players, Richer only had to wind up his stick to about waist height to achieve full power on his shot. Recognition of his hard shot was noticed even more when Fleer trading cards included Richer in their 'Slapshot Artists' limited set for the 1994–95 season. During the 1994 New Jersey Devils team-only skills competition prior to the All-Star Game, Richer recorded multiple slapshots that exceeded the 100 mph mark.
He was openly criticized by other players for his comments during the NHL lockout of 1995 leading to 1/2 the normal season when he stated '...we should be playing hockey', when asked about the strike and his feelings about the negotiations. Richer confirmed during the 2001-02 season that he has been battling depression during the majority of his career.
STEPHANE RICHER NHL Seasons Stats
Age
Season
Team
Pos
GP
G
A
PTS
+/-
PIM
Shot %
32
1998-99
TBL
RW
64
12
21
33
-10
22
8.6
30
1996-97
MTL
RW
63
22
24
46
0
32
17.5
29
1995-96
NJD
RW
73
20
12
32
-8
30
10.4
28
1994-95
NJD
RW
45
23
16
39
8
10
17.3
28
1994-95
FLA
D
1
0
0
0
0
2
0
27
1993-94
FLA
D
2
0
1
1
-1
0
0
27
1993-94
NJD
RW
80
36
36
72
31
16
16.6
26
1992-93
NJD
LW
78
38
35
73
-1
44
13.3
25
1991-92
NJD
RW
74
29
35
64
-1
25
12.1
24
1990-91
MTL
RW
75
31
30
61
0
53
14
23
1989-90
MTL
RW
75
51
40
91
35
46
19
22
1988-89
MTL
RW
68
25
35
60
4
61
11.7
21
1987-88
MTL
RW
72
50
28
78
12
72
19
20
1986-87
MTL
RW
57
20
19
39
11
80
18.3
19
1985-86
MTL
C
65
21
16
37
1
50
18.8
18
1984-85
MTL
RW
1
0
0
0
0
0
0
NHL season totals
893
378
348
726
5
543
12.3
STEPHANE RICHER Hockey Cards
STEPHANE RICHER
| COMMON
$8.00
STEPHANE RICHER
| COMMON
$0.50
STEPHANE RICHER
| COMMON
$0.60
STEPHANE RICHER
| COMMON
$0.30
STEPHANE RICHER
| ALL STAR
$0.30
STEPHANE RICHER
| COMMON
$0.40
STEPHANE RICHER
| COMMON
$0.50
STEPHANE RICHER
| COMMON
$0.40
STEPHANE RICHER
| COMMON
$0.15
STEPHANE RICHER
| COMMON
$0.40
STEPHANE RICHER
| COMMON
$0.30
STEPHANE RICHER
| COMMON
$0.20
STEPHANE RICHER
| COMMON
$0.20
STEPHANE RICHER
| COMMON
$0.25
STEPHANE RICHER
| COMMON
$0.30
STEPHANE RICHER
| COMMON
$0.40
STEPHANE RICHER
| COMMON
$0.40
STEPHANE RICHER
| COMMON
$0.20
STEPHANE RICHER
| COMMON
$0.25
STEPHANE RICHER
| COMMON
$0.30
STEPHANE RICHER
| COMMON
$0.30
STEPHANE RICHER
| COMMON
$0.20
STEPHANE RICHER
| COMMON
$0.30
STEPHANE RICHER
| COMMON
$0.75
STEPHANE RICHER
| COMMON
$0.25
STEPHANE RICHER
| COMMON
$0.40
---