SERGEI MAKAROV Hockey Cards
On Tophockeycards.com your hockey cards value for free. Bonus: Get hockey stats from your favorite hockey players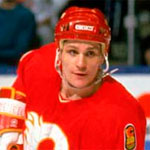 Sergei Mikhailovich Makarov (born June 19, 1958 in Chelyabinsk) is a Russian former ice hockey right wing and two-time Olympic gold medalist. He was voted one of six players to the International Ice Hockey Federation's (IIHF) Centennial All-Star Team in a poll conducted by a group of 56 experts from 16 countries.
Sergei Makarov was trained entirely in the Soviet Union. He won two World Junior Championships, and was named the best player during his second victory in 1978. Makarov was also on the gold-winning Soviet national ice hockey team in the World Championships in 1978, 1979, 1981, 1982, 1983, 1986, 1989 and 1990 and in the Canada Cup in 1981.
In 1989, Makarov was allowed by the Soviet Union to join the National Hockey League and the Calgary Flames. He won the Calder Memorial Trophy as rookie of the year at the age of 31 (as a result, the rules were changed and now only players under 26 qualify for the award – the Makarov Rule). Makarov also played for the San Jose Sharks from 1993 to 1995. For the 1995–96 season Makarov was dropped from the Sharks' roster and did not play and became an assistant coach for the Russian national team during the World Cup.
In 2001 Sergei was inducted into the IIHF Hall of Fame during the Ice Hockey World Championship in Germany.
SERGEI MAKAROV NHL Seasons Stats
Age
Season
Team
Pos
GP
G
A
PTS
+/-
PIM
Shot %
38
1996-97
DAL
RW
4
0
0
0
-2
0
0
36
1994-95
SJS
RW
43
10
14
24
-4
40
17.9
35
1993-94
SJS
RW
80
30
38
68
11
78
19.4
34
1992-93
CGY
RW
71
18
39
57
0
40
17.1
33
1991-92
CGY
RW
68
22
48
70
14
60
26.5
32
1990-91
CGY
RW
78
30
49
79
15
44
32.3
31
1989-90
CGY
RW
80
24
62
86
33
55
20.3
NHL season totals
424
134
250
384
10
317
19.1
SERGEI MAKAROV Hockey Cards
SERGEI MAKAROV
| COMMON
$0.60
SERGEI MAKAROV
| COMMON
$0.75
SERGEI MAKAROV
| COMMON
$1.00
SERGEI MAKAROV
| TROPHY
$0.60
SERGEI MAKAROV
| ROY
$0.60
SERGEI MAKAROV
| ALL ROOKIE TEAM
$0.75
SERGEI MAKAROV
| SEASON LEADER
$0.75
SERGEI MAKAROV
| CALDER MEMORIAL
$0.75
SERGEI MAKAROV
| AWARD
$1.00
SERGEI MAKAROV
| ALL ROOKIE TEAM
$1.00
SERGEI MAKAROV
| COMMON
$0.40
SERGEI MAKAROV
| COMMON
$0.05
SERGEI MAKAROV
| COMMON
$0.40
SERGEI MAKAROV
| COMMON
$0.30
SERGEI MAKAROV
| COMMON
$0.20
SERGEI MAKAROV
| COMMON
$0.25
SERGEI MAKAROV
| COMMON
$0.30
SERGEI MAKAROV
| COMMON
$0.40
SERGEI MAKAROV
| COMMON
$0.15
SERGEI MAKAROV
| COMMON
$0.20
SERGEI MAKAROV
| COMMON
$0.25
SERGEI MAKAROV
| COMMON
$0.25
SERGEI MAKAROV
| COMMON
$0.15
SERGEI MAKAROV
| COMMON
$0.25
---