RYAN GETZLAF Hockey Cards
On Tophockeycards.com your hockey cards value for free. Bonus: Get hockey stats from your favorite hockey players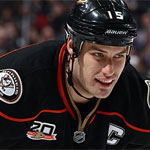 Ryan Getzlaf (born May 10, 1985) is a Canadian professional ice hockey centre of the National Hockey League (NHL).
A first round selection, 19th overall, at the 2003 NHL Entry Draft, Getzlaf has played his entire professional career in the Ducks organization and ranks as one of the franchise's all-time leading scorers.
Ryan Getzlaf has played in two NHL All-Star Games and was a member of the Ducks' 2007 Stanley Cup championship team. A playmaker and power forward, Getzlaf has led the Ducks in assists seven times, including a franchise record of 66 in 2008–09.
In 2013–14, Getzlaf recorded a career high 31 goals and finished second to Sidney Crosby in league scoring with 87 points. Getzlaf was named to the Second All-Star Team and was a first-time finalist for the Hart Memorial Trophy as the NHL's most valuable player. He finished as the runner-up to Crosby.
RYAN GETZLAF NHL Seasons Stats
Age
Season
Team
Pos
GP
G
A
PTS
+/-
PIM
Shot %
36
2021-22
ANA
C
56
3
34
37
-14
29
2.9
35
2020-21
ANA
C
48
5
12
17
-14
43
7.1
34
2019-20
ANA
C
69
13
29
42
-16
58
9.1
33
2018-19
ANA
C
67
14
34
48
-19
58
10.5
32
2017-18
ANA
C
56
11
50
61
20
42
9.4
31
2016-17
ANA
C
74
15
58
73
7
49
10.9
30
2015-16
ANA
C
77
13
50
63
14
55
7.3
29
2014-15
ANA
C
77
25
45
70
15
62
13.1
28
2013-14
ANA
C
77
31
56
87
28
31
15.2
27
2012-13
ANA
C
44
15
34
49
14
41
15.2
26
2011-12
ANA
C
82
11
46
57
-11
75
5.9
25
2010-11
ANA
C
67
19
57
76
14
35
16.2
24
2009-10
ANA
C
66
19
50
69
4
79
12.8
23
2008-09
ANA
C
81
25
66
91
5
121
11
22
2007-08
ANA
C
77
24
58
82
32
94
13
21
2006-07
ANA
C
82
25
33
58
17
66
12.3
20
2005-06
MDA
C
57
14
25
39
6
22
12.1
NHL season totals
1157
282
737
1019
6
960
10.8
RYAN GETZLAF Hockey Cards
RYAN GETZLAF
| COMMON
$0.75
RYAN GETZLAF
| COMMON
$0.75
RYAN GETZLAF /RYAN SHANNON
| ROOKIE SHOWDOWN
$2.50
RYAN GETZLAF
| COMMON
$1.25
RYAN GETZLAF
| COMMON
$1.25
RYAN GETZLAF
| COMMON
$0.75
RYAN GETZLAF
| COMMON
$1.25
RYAN GETZLAF
| COMMON
$1.00
RYAN GETZLAF
| COMMON
$0.75
RYAN GETZLAF
| COMMON
$1.00
RYAN GETZLAF
| COMMON
$0.75
RYAN GETZLAF
| COMMON
$2.00
RYAN GETZLAF
| COMMON
$1.25
RYAN GETZLAF
| COMMON
$1.25
RYAN GETZLAF
| COMMON
$1.00
RYAN GETZLAF
| COMMON
$0.75
RYAN GETZLAF
| COMMON
$1.25
RYAN GETZLAF
| COMMON
$1.25
RYAN GETZLAF
| COMMON
$1.25
RYAN GETZLAF
| COMMON
$1.50
RYAN GETZLAF
| COMMON
$0.75
RYAN GETZLAF
| COMMON
$0.75
RYAN GETZLAF
| COMMON
$0.75
RYAN GETZLAF
| COMMON
$1.25
RYAN GETZLAF
| CHL CARD
$1.00
RYAN GETZLAF
| COMMON
$0.75
RYAN GETZLAF
| COMMON
$1.00
RYAN GETZLAF
| COMMON
$1.00
RYAN GETZLAF
| COMMON
$1.50
RYAN GETZLAF
| TEAM CANADA
$4.00
RYAN GETZLAF
| COMMON
$1.25
RYAN GETZLAF
| COMMON
$0.75
RYAN GETZLAF
| COMMON
$0.60
RYAN GETZLAF
| COMMON
$1.25
RYAN GETZLAF
| COMMON
$2.50
RYAN GETZLAF
| COMMON
$0.75
RYAN GETZLAF
| COMMON
$1.00
RYAN GETZLAF
| COMMON
$3.00
RYAN GETZLAF
| COMMON
$0.60
RYAN GETZLAF /COREY PERRY /COREY PERRY /VIKTOR FASTH
| TEAM LEADERS
$0.60
COREY PERRY /RYAN GETZLAF /DUSTIN PENNER
| AUTHENTIC MOMENTS
$3.00
RYAN GETZLAF
| COMMON
$1.50
RYAN GETZLAF
| COMMON
$1.50
RYAN GETZLAF
| COMMON
$1.25
RYAN GETZLAF
| COMMON
$0.75
RYAN GETZLAF
| COMMON
$1.50
RYAN GETZLAF
| COMMON
$1.50
RYAN GETZLAF
| SHORT PRINT (ORANGE JERSEY)
$25.00
RYAN GETZLAF
| COMMON
$1.25
RYAN GETZLAF
| SHORT PRINT
$4.00
RYAN GETZLAF
| ALL-STAR
$0.75
RYAN GETZLAF
| COMMON
$1.25
RYAN GETZLAF
| COMMON
$6.00
RYAN GETZLAF
| COMMON
$1.50
RYAN GETZLAF
| COMMON
$1.50
RYAN GETZLAF
| COMMON
$0.75
RYAN GETZLAF
| COMMON
$1.25
RYAN GETZLAF
| COMMON
$0.50
RYAN GETZLAF
| COMMON
$2.00
RYAN GETZLAF
| COMMON
$1.00
RYAN GETZLAF
| COMMON
$1.50
RYAN GETZLAF
| COMMON
$0.75
RYAN GETZLAF
| COMMON
$1.50
RYAN GETZLAF
| COMMON
$0.60
RYAN GETZLAF
| COMMON
$0.60
RYAN GETZLAF
| COMMON
$0.75
RYAN GETZLAF
| COMMON
$0.60
RYAN GETZLAF
| COMMON
$0.60
RYAN GETZLAF
| COMMON
$1.00
RYAN GETZLAF
| COMMON
$0.75
RYAN GETZLAF
| COMMON
$0.60
RYAN GETZLAF
| SEASON HIGHLIGHTS
$1.50
RYAN GETZLAF
| COMMON
$0.60
RYAN GETZLAF
| COMMON
$0.75
RYAN GETZLAF
| COMMON
$0.60
RYAN GETZLAF
| COMMON
$0.60
RYAN GETZLAF
| COMMON
$0.75
RYAN GETZLAF
| COMMON
$0.60
---