On Tophockeycards.com your hockey cards value for free. Bonus: Get hockey stats from your favorite hockey players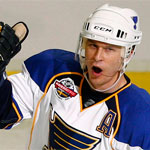 Paul Tetsuhiko Kariya (born October 16, 1974) is a Canadian retired professional ice hockey winger who played 15 seasons in the National Hockey League (NHL). Known as a skilled and fast-skating offensive player, he played in the NHL. Selected fourth overall in the 1993 NHL Entry Draft by the Mighty Ducks, Paul Kariya joined the team in 1994–95 and was named to the NHL All-Rookie Team.
During his nine-year tenure with Anaheim, Kariya formed an effective duo with fellow winger Teemu Selanne that helped him to three NHL First All-Star Team distinctions, while also finishing as the first runner-up for the Hart Memorial Trophy in 1997. Not an aggressive player, he won back-to-back Lady Byng Trophies in 1996 and 1997 as the league's most gentlemanly player. Serving as a captain for seven seasons, he led the the Mighty Ducks to the 2003 Stanley Cup Finals. He played two seasons in Nashville, setting team records for points scored in a single-season in 2005–06.
PAUL KARIYA NHL Seasons Stats
Age
Season
Team
Pos
GP
G
A
PTS
+/-
PIM
Shot %
35
2009-10
STL
LW
75
18
25
43
-7
36
8.1
34
2008-09
STL
LW
11
2
13
15
1
2
6.5
33
2007-08
STL
LW
82
16
49
65
-10
50
7.2
32
2006-07
NSH
LW
82
24
52
76
6
36
10.7
31
2005-06
NSH
LW
82
31
54
85
-6
40
12.7
29
2003-04
COL
LW
51
11
25
36
-5
22
10
28
2002-03
MDA
LW
82
25
56
81
-3
48
9.7
27
2001-02
MDA
RW
82
32
25
57
-15
28
11.1
26
2000-01
MDA
LW
66
33
34
67
-9
20
14.3
25
1999-00
MDA
LW
74
42
44
86
22
24
13
24
1998-99
MDA
LW
82
39
62
101
17
40
9.1
23
1997-98
MDA
LW
22
17
14
31
12
23
16.5
22
1996-97
MDA
LW
69
44
55
99
36
6
12.9
21
1995-96
MDA
LW
82
50
58
108
9
20
14.3
20
1994-95
MDA
RW
47
18
21
39
-17
4
13.4
NHL season totals
989
402
587
989
2
399
11.3
PAUL KARIYA Hockey Cards
PAUL KARIYA
| COMMON
$4.00
PAUL KARIYA
| COMMON
$1.25
PAUL KARIYA
| COMMON
$0.75
PAUL KARIYA
| COMMON
$0.40
PAUL KARIYA
| COMMON
$0.30
PAUL KARIYA
| GM CHOICE
$0.30
PAUL KARIYA
| GM CHOICE
$0.30
PAUL KARIYA
| COMMON
$0.75
PAUL KARIYA
| COMMON
$0.75
PAUL KARIYA
| COMMON
$0.50
PAUL KARIYA
| COMMON
$2.00
PAUL KARIYA
| COMMON
$0.60
PAUL KARIYA
| COMMON
$0.50
PAUL KARIYA
| STAR POWER
$0.75
PAUL KARIYA
| COMMON
$2.50
PAUL KARIYA
| COMMON
$0.60
PAUL KARIYA
| COMMON
$0.60
PAUL KARIYA
| COMMON
$0.40
PAUL KARIYA
| COMMON
$0.75
PAUL KARIYA
| COMMON
$1.00
PAUL KARIYA
| COMMON
$0.60
PAUL KARIYA
| COMMON
$0.75
PAUL KARIYA
| COMMON
$1.00
PAUL KARIYA
| COMMON
$1.25
PAUL KARIYA
| # 395/450
$3.00
PAUL KARIYA
| COMMON
$1.50
PAUL KARIYA
| COMMON
$0.50
PAUL KARIYA
| COMMON
$1.50
PAUL KARIYA
| COMMON
$0.50
PAUL KARIYA
| COMMON
$0.75
PAUL KARIYA
| COMMON
$0.60
PAUL KARIYA
| COMMON
$1.00
PAUL KARIYA
| COMMON
$0.75
PAUL KARIYA
| COMMON
$0.50
PAUL KARIYA
| COMMON
$1.00
PAUL KARIYA
| COMMON
$2.00
PAUL KARIYA
| COMMON
$1.00
PAUL KARIYA
| JUMBO
$2.50
PAUL KARIYA
| COMMON
$5.00
PAUL KARIYA
| COMMON
$1.00
PAUL KARIYA
| TEAM CHECKLIST
$1.00
PAUL KARIYA
| COMMON
$0.75
PAUL KARIYA
| COMMON
$0.75
PAUL KARIYA
| COMMON
$0.60
PAUL KARIYA
| COMMON
$0.50
PAUL KARIYA
| COMMON
$0.50
PAUL KARIYA
| COMMON
$1.00
PAUL KARIYA
| COMMON
$3.00
PAUL KARIYA
| COMMON
$0.50
PAUL KARIYA
| COMMON
$0.50
PAUL KARIYA
| HALL WORTHY
$0.50
PAUL KARIYA
| TEAM CHECKLIST
$0.50
PAUL KARIYA
| COMMON
$0.75
PAUL KARIYA
| COMMON
$0.75
PAUL KARIYA
| COMMON
$0.40
PAUL KARIYA
| COMMON
$0.50
PAUL KARIYA
| COMMON
$0.75
PAUL KARIYA
| COMMON
$0.60
PAUL KARIYA
| COMMON
$0.50
PAUL KARIYA
| COMMON
$0.60
PAUL KARIYA
| COMMON
$0.60
PAUL KARIYA
| COMMON
$1.50
PAUL KARIYA
| COMMON
$1.00
PAUL KARIYA
| COMMON
$0.75
PAUL KARIYA
| COMMON
$0.75
PAUL KARIYA
| COMMON
$1.25
PAUL KARIYA
| COMMON
$0.60
PAUL KARIYA
| COMMON
$1.00
PAUL KARIYA
| COMMON
$0.75
---