On Tophockeycards.com your hockey cards value for free. Bonus: Get hockey stats from your favorite hockey players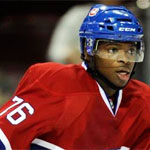 Pernell Karl 'P. K.' Subban (born May 13, 1989) is a Canadian professional NHL ice hockey defenceman . P.K. Subban's parents, immigrated from Jamaica to Canada in the 1970s. P.K. Subban was drafted by the Canadiens in the second round, 43rd overall, of the 2007 NHL Entry Draft. He is a two-time gold medal winner with Team Canada at the World Junior Championships.
On March 20, P.K. Subban became the first Canadiens rookie defenceman to score a hat trick in a game. This feat came in an 8-1 victory against the Minnesota Wild on March 20, 2011.
P.K. Subban Regular season and playoffs stats
P.K. SUBBAN NHL Seasons Stats
Age
Season
Team
Pos
GP
G
A
PTS
+/-
PIM
Shot %
32
2021-22
NJD
D
77
5
17
22
-8
82
4.4
31
2020-21
NJD
D
44
5
14
19
-16
26
5.1
30
2019-20
NJD
D
68
7
11
18
-21
79
4.6
29
2018-19
NSH
D
63
9
22
31
5
60
5.4
28
2017-18
NSH
D
82
16
43
59
18
82
7.7
27
2016-17
NSH
D
66
10
30
40
-8
44
7
26
2015-16
MTL
D
68
6
45
51
4
75
3.4
25
2014-15
MTL
D
82
15
45
60
21
74
8.8
24
2013-14
MTL
D
82
10
43
53
-4
81
4.9
23
2012-13
MTL
D
42
11
27
38
12
57
8.7
22
2011-12
MTL
D
81
7
29
36
9
119
3.4
21
2010-11
MTL
D
77
14
24
38
-8
124
7.1
20
2009-10
MTL
D
2
0
2
2
1
2
0
NHL season totals
834
115
352
467
0
905
5.4
P.K. SUBBAN Hockey Cards
P.K. SUBBAN
| ROOKIE # 749/999
$30.00
P.K. SUBBAN
| HOT ROOKIES
$12.00
NAZEEM KADRI /P.K. SUBBAN /TAYLOR HULL
| CHECKLIST
$12.00
P.K. SUBBAN
| CHL CARD
$0.75
P.K. SUBBAN
| COMMON
$0.60
P.K. SUBBAN
| COMMON
$0.75
P.K. SUBBAN
| COMMON
$0.75
P.K. SUBBAN
| COMMON
$1.25
P.K. SUBBAN
| COMMON
$1.00
P.K. SUBBAN
| COMMON
$0.60
P.K. SUBBAN
| COMMON
$0.50
P.K. SUBBAN
| COMMON
$1.00
P.K. SUBBAN
| COMMON
$4.00
P.K. SUBBAN
| COMMON
$3.00
P.K. SUBBAN
| COMMON
$0.60
P.K. SUBBAN
| COMMON
$0.50
CAREY PRICE /P.K. SUBBAN /BRANDON PRUST /MICHAEL RYDER
| TEAM LEADERS
$1.25
P.K. SUBBAN
| COMMON
$0.75
P.K. SUBBAN
| COMMON
$1.50
P.K. SUBBAN
| COMMON
$1.00
P.K. SUBBAN
| COMMON
$0.60
P.K. SUBBAN
| COMMON
$1.25
P.K. SUBBAN
| COMMON
$1.25
P.K. SUBBAN
| COMMON
$1.00
CAREY PRICE /P.K. SUBBAN /MAX PACIORETTY
| CHECKLIST
$2.50
P.K. SUBBAN
| SHORT PRINT
$3.00
P.K. SUBBAN
| COMMON
$0.60
P.K. SUBBAN
| COMMON
$1.00
RICK NASH /P.K. SUBBAN
| CHECKLIST
$1.00
P.K. SUBBAN
| COMMON
$6.00
P.K. SUBBAN
| COMMON
$1.50
P.K. SUBBAN
| COMMON
$1.50
P.K. SUBBAN
| COMMON
$0.60
P.K. SUBBAN
| COMMON
$1.00
P.K. SUBBAN /SHEA WEBER
| CHECKLIST
$1.00
P.K. SUBBAN
| COMMON
$0.60
P.K. SUBBAN
| COMMON
$1.25
P.K. SUBBAN
| COMMON
$2.00
P.K. SUBBAN
| COMMON
$1.00
P.K. SUBBAN
| COMMON
$1.00
P.K. SUBBAN
| COMMON
$2.00
P.K. SUBBAN
| COMMON
$1.00
P.K. SUBBAN
| COMMON
$0.75
P.K. SUBBAN
| COMMON
$0.75
P.K. SUBBAN /JOHN TAVARES
| CHECKLIST
$1.50
MALCOLM SUBBAN /P.K. SUBBAN
| COMMON
$1.50
P.K. SUBBAN
| COMMON
$0.75
P.K. SUBBAN
| COMMON
$0.60
P.K. SUBBAN
| COMMON
$0.60
P.K. SUBBAN
| COMMON
$3.00
P.K. SUBBAN
| COMMON
$1.25
P.K. SUBBAN
| COMMON
$1.00
ERIK KARLSSON /P.K. SUBBAN
| CHECKLIST
$1.50
P.K. SUBBAN
| COMMON
$0.75
P.K. SUBBAN
| COMMON
$1.00
P.K. SUBBAN
| COMMON
$0.75
P.K. SUBBAN
| COMMON
$0.75
P.K. SUBBAN
| COMMON
$1.00
P.K. SUBBAN
| COMMON
$0.75
---