NATHAN MACKINNON Hockey Cards
On Tophockeycards.com your hockey cards value for free. Bonus: Get hockey stats from your favorite hockey players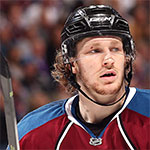 Nathan MacKinnon (born September 1, 1995) is a Canadian ice hockey forward. MacKinnon was selected first overall by the Colorado Avalanche in the 2013 NHL Entry Draft.
Nathan MacKinnon was signed to his first NHL contract, a three-year entry level deal, with the Avalanche on July 9, 2013. He made his NHL debut on October 2, 2013 becoming the youngest hockey player to ever dress in a regular season game for the Colorado Avalanche franchise, registering two assists in a 6 - 1 Colorado victory. MacKinnon became just the third player in NHL to record seven points in his first two playoff games.
On June 24, 2014 MacKinnon won the Calder Memorial Trophy for the rookie of the year. He is the youngest player to ever win this trophy.
NATHAN MACKINNON NHL Seasons Stats
Age
Season
Team
Pos
GP
G
A
PTS
+/-
PIM
Shot %
26
2021-22
COL
C
65
32
56
88
22
42
10.7
25
2020-21
COL
C
48
20
45
65
22
37
9.7
24
2019-20
COL
C
69
35
58
93
13
12
11
23
2018-19
COL
C
82
41
58
99
20
34
11.2
22
2017-18
COL
C
74
39
58
97
11
55
13.7
21
2016-17
COL
C
82
16
37
53
-14
16
6.4
20
2015-16
COL
C
72
21
31
52
-4
20
8.6
19
2014-15
COL
C
64
14
24
38
-7
34
7.3
18
2013-14
COL
C
82
24
39
63
20
26
10
NHL season totals
638
242
406
648
9
276
9.8
NATHAN MACKINNON Hockey Cards
NATHAN MACKINNON
| AUTOGRAPH # 212/999
$2,000.00
NATHAN MACKINNON
| ROOKIE
$15.00
NATHAN MACKINNON
| CHL ROOKIE
$8.00
NATHAN MACKINNON
| AUTHENTIC MOMENTS
$10.00
NATHAN MACKINNON /SETH JONES
| AUTHENTIC MOMENTS
$10.00
NATHAN MACKINNON /ALEKSANDER BARKOV
| AUTHENTIC MOMENTS
$10.00
NATHAN MACKINNON /SETH JONES /ALEX GALCHENYUK
| CHECKLIST
$8.00
NATHAN MACKINNON
| COMMON
$1.50
NATHAN MACKINNON
| COMMON
$3.00
NATHAN MACKINNON
| (RED BORDER)
$20.00
NATHAN MACKINNON
| COMMON
$3.00
NATHAN MACKINNON
| COMMON
$2.50
NATHAN MACKINNON
| COMMON
$2.00
NATHAN MACKINNON
| COMMON
$1.50
NATHAN MACKINNON
| COMMON
$2.50
NATHAN MACKINNON
| COMMON
$1.00
NATHAN MACKINNON
| COMMON
$1.00
NATHAN MACKINNON
| COMMON
$2.00
NATHAN MACKINNON
| COMMON
$1.50
NATHAN MACKINNON
| COMMON
$2.50
NATHAN MACKINNON
| COMMON
$1.50
NATHAN MACKINNON
| COMMON
$3.00
NATHAN MACKINNON
| COMMON
$5.00
NATHAN MACKINNON
| COMMON
$2.50
NATHAN MACKINNON
| COMMON
$5.00
NATHAN MACKINNON
| COMMON
$2.00
NATHAN MACKINNON
| COMMON
$1.50
NATHAN MACKINNON
| COMMON
$4.00
NATHAN MACKINNON
| COMMON
$1.50
NATHAN MACKINNON
| COMMON
$1.25
NATHAN MACKINNON
| COMMON
$3.00
NATHAN MACKINNON
| COMMON
$1.50
NATHAN MACKINNON
| COMMON
$3.00
NATHAN MACKINNON
| COMMON
$1.50
NATHAN MACKINNON
| COMMON
$2.00
NATHAN MACKINNON
| COMMON
$2.50
NATHAN MACKINNON /ARTEMI PANARIN
| CHECKLIST
$2.50
NATHAN MACKINNON
| ALL STAR
$2.50
NATHAN MACKINNON
| COMMON
$4.00
NATHAN MACKINNON
| COMMON
$2.50
NATHAN MACKINNON
| CHECKLIST
$1.50
NATHAN MACKINNON
| COMMON
$1.50
NATHAN MACKINNON
| COMMON
$2.00
NATHAN MACKINNON
| COMMON
$2.50
NATHAN MACKINNON /LEON DRAISAITL
| CHECKLIST
$2.50
NATHAN MACKINNON
| SHORT PRINT
$4.00
NATHAN MACKINNON
| COMMON
$4.00
---