On Tophockeycards.com your hockey cards value for free. Bonus: Get hockey stats from your favorite hockey players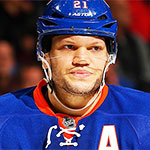 Kyle Henry Erovre Okposo (born April 16, 1988) is an American, born to a Nigerian father and an American mother. He is a right winger. Okposo was drafted seventh overall in the 2006 NHL Entry Draft by the New York Islanders.
Kyle Okposo made his NHL debut on March 18, 2008 and netted his first career NHL goal on March 21, 2008, against the New Jersey Devils, a game winner scored on the powerplay against Martin Brodeur. On May 25, 2011, he signed a five-year, $14 million contract with the New York Islanders. He scored his 100th career goal on October 14, 2014 against the New York Rangers.
KYLE OKPOSO NHL Seasons Stats
Age
Season
Team
Pos
GP
G
A
PTS
+/-
PIM
Shot %
33
2021-22
BUF
RW
74
21
24
45
-15
43
12.1
32
2020-21
BUF
RW
35
2
11
13
-1
0
4.4
31
2019-20
BUF
RW
52
9
10
19
-3
28
11
30
2018-19
BUF
RW
78
14
15
29
-9
41
9.5
29
2017-18
BUF
RW
76
15
29
44
-34
40
9.3
28
2016-17
BUF
RW
65
19
26
45
-7
24
12.2
27
2015-16
NYI
RW
79
22
42
64
-4
51
10.9
26
2014-15
NYI
RW
60
18
33
51
-8
12
9.2
25
2013-14
NYI
RW
71
27
42
69
-9
51
13.8
24
2012-13
NYI
RW
48
4
20
24
-2
38
4
23
2011-12
NYI
RW
79
24
21
45
-15
46
15.8
22
2010-11
NYI
RW
38
5
15
20
3
40
6.9
21
2009-10
NYI
RW
80
19
33
52
-22
34
7.6
20
2008-09
NYI
RW
65
18
21
39
-6
36
10.9
19
2007-08
NYI
RW
9
2
3
5
3
2
13.3
NHL season totals
909
219
345
564
-9
486
10.1
KYLE OKPOSO Hockey Cards
KYLE OKPOSO
| COMMON
$2.50
KYLE OKPOSO
| COMMON
$0.50
KYLE OKPOSO
| COMMON
$0.75
KYLE OKPOSO
| COMMON
$2.00
KYLE OKPOSO
| COMMON
$0.75
KYLE OKPOSO
| COMMON
$0.75
KYLE OKPOSO
| COMMON
$1.00
KYLE OKPOSO
| COMMON
$0.50
KYLE OKPOSO
| COMMON
$0.50
KYLE OKPOSO
| COMMON
$0.50
KYLE OKPOSO
| AHL CARD
$0.60
KYLE OKPOSO
| COMMON
$0.50
KYLE OKPOSO
| COMMON
$0.60
KYLE OKPOSO
| COMMON
$0.60
KYLE OKPOSO
| COMMON
$0.50
KYLE OKPOSO
| COMMON
$0.40
KYLE OKPOSO
| COMMON
$0.75
KYLE OKPOSO
| COMMON
$0.50
KYLE OKPOSO
| COMMON
$0.40
KYLE OKPOSO
| COMMON
$1.00
KYLE OKPOSO
| COMMON
$0.75
KYLE OKPOSO
| COMMON
$0.50
KYLE OKPOSO
| COMMON
$1.00
KYLE OKPOSO
| COMMON
$1.00
KYLE OKPOSO
| SHORT PRINT (LOOKING LEFT)
$15.00
KYLE OKPOSO
| COMMON
$0.75
KYLE OKPOSO
| COMMON
$0.60
KYLE OKPOSO
| COMMON
$0.50
KYLE OKPOSO
| COMMON
$2.50
KYLE OKPOSO
| COMMON
$0.75
KYLE OKPOSO
| COMMON
$1.00
KYLE OKPOSO
| COMMON
$1.00
KYLE OKPOSO
| COMMON
$0.50
KYLE OKPOSO
| COMMON
$0.75
KYLE OKPOSO
| COMMON
$0.40
KYLE OKPOSO
| COMMON
$0.75
KYLE OKPOSO
| COMMON
$0.60
KYLE OKPOSO
| COMMON
$0.75
KYLE OKPOSO
| COMMON
$0.50
KYLE OKPOSO
| COMMON
$0.60
KYLE OKPOSO
| COMMON
$0.50
KYLE OKPOSO
| COMMON
$0.50
KYLE OKPOSO
| COMMON
$0.60
KYLE OKPOSO
| COMMON
$0.50
KYLE OKPOSO
| COMMON
$1.00
KYLE OKPOSO
| COMMON
$0.50
KYLE OKPOSO
| COMMON
$0.60
KYLE OKPOSO
| COMMON
$0.50
---