DANIEL ALFREDSSON Hockey Cards
On Tophockeycards.com your hockey cards value for free. Bonus: Get hockey stats from your favorite hockey players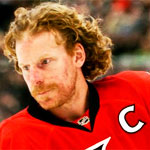 Daniel Alfredsson (born 11 December 1972) is a Swedish professional ice hockey player. He is considered a leader by exampleand has been compared to Steve Yzerman in his value to the Senators.
Drafted 133rd overall in the 6th round of the 1994 NHL Entry Draft, Alfredsson was a serendipitous pick by the Senators. He is one of the league's top two-way players, and he holds the Senators' franchise records for goals (404), assists (655), and points (1059) with 1100 games played.
In October 2008, Alfredsson underwent arthroscopic surgery on his right knee to remove a bone chip and returned less than a week later. On 30 October 2008, Alfredsson agreed to a four-year contract extension with Ottawa worth $21.6 million. The contract, intended to allow Alfredsson to finish his playing career with the Senators, included a no-movement clause. Daniel Alfredsson was the 75th player to reach 1,000 career points in the NHL, scoring three goals in a win over the Buffalo Sabres on 22 October 2010.
DANIEL ALFREDSSON NHL Seasons Stats
Age
Season
Team
Pos
GP
G
A
PTS
+/-
PIM
Shot %
41
2013-14
DET
RW
68
18
31
49
2
10
11.9
40
2012-13
OTT
RW
47
10
16
26
1
33
9.9
39
2011-12
OTT
RW
75
27
32
59
16
18
14.1
38
2010-11
OTT
RW
54
14
17
31
-19
18
14.6
37
2009-10
OTT
RW
70
20
51
71
8
22
11.9
36
2008-09
OTT
RW
79
24
50
74
7
24
11.8
35
2007-08
OTT
RW
70
40
49
89
15
34
18.4
34
2006-07
OTT
RW
77
29
58
87
42
42
12.1
33
2005-06
OTT
RW
77
43
60
103
29
50
17.3
31
2003-04
OTT
RW
77
32
48
80
12
24
13.9
30
2002-03
OTT
RW
78
27
51
78
15
42
11.3
29
2001-02
OTT
RW
78
37
34
71
3
45
15.2
28
2000-01
OTT
RW
68
24
46
70
11
30
11.7
27
1999-00
OTT
RW
57
21
38
59
11
28
12.8
26
1998-99
OTT
RW
58
11
22
33
8
14
6.7
25
1997-98
OTT
RW
55
17
28
45
7
18
11.4
24
1996-97
OTT
RW
76
24
47
71
5
30
9.7
23
1995-96
OTT
RW
82
26
35
61
-18
28
12.3
NHL season totals
1246
444
713
1157
9
510
12.6
DANIEL ALFREDSSON Hockey Cards
DANIEL ALFREDSSON
| COMMON
$1.00
DANIEL ALFREDSSON
| COMMON
$0.75
DANIEL ALFREDSSON
| COMMON
$0.40
DANIEL ALFREDSSON
| COMMON
$0.25
DANIEL ALFREDSSON
| COMMON
$0.50
DANIEL ALFREDSSON
| COMMON
$0.40
DANIEL ALFREDSSON
| COMMON
$0.50
DANIEL ALFREDSSON
| COMMON
$0.30
DANIEL ALFREDSSON
| COMMON
$0.75
DANIEL ALFREDSSON
| COMMON
$0.75
DANIEL ALFREDSSON
| COMMON
$0.50
DANIEL ALFREDSSON
| COMMON
$0.75
DANIEL ALFREDSSON
| COMMON
$0.75
DANIEL ALFREDSSON
| COMMON
$1.00
DANIEL ALFREDSSON
| COMMON
$0.50
DANIEL ALFREDSSON
| COMMON
$1.25
DANIEL ALFREDSSON
| COMMON
$0.50
DANIEL ALFREDSSON
| COMMON
$0.60
DANIEL ALFREDSSON
| COMMON
$0.50
DANIEL ALFREDSSON
| COMMON
$1.00
DANIEL ALFREDSSON
| COMMON
$0.60
DANIEL ALFREDSSON
| COMMON
$0.50
DANIEL ALFREDSSON
| COMMON
$1.00
DANIEL ALFREDSSON
| COMMON
$1.00
DANIEL ALFREDSSON
| COMMON
$0.75
DANIEL ALFREDSSON
| CAPTAINS
$0.75
DANIEL ALFREDSSON
| SEASON HIGHLIGHTS
$0.75
DANIEL ALFREDSSON
| COMMON
$0.75
DANIEL ALFREDSSON
| COMMON
$0.60
DANIEL ALFREDSSON
| COMMON
$0.50
DANIEL ALFREDSSON
| COMMON
$0.50
DANIEL ALFREDSSON
| COMMON
$1.00
DANIEL ALFREDSSON
| COMMON
$0.50
DANIEL ALFREDSSON
| COMMON
$0.50
DANIEL ALFREDSSON
| HALL WORTHY
$0.50
DANIEL ALFREDSSON
| TEAM CHECKLIST
$0.50
DANIEL ALFREDSSON
| COMMON
$0.75
DANIEL ALFREDSSON
| COMMON
$0.75
DANIEL ALFREDSSON
| COMMON
$0.40
DANIEL ALFREDSSON
| COMMON
$0.50
DANIEL ALFREDSSON /ANDY MCDONALD /PAVEL DATSYUK
| COMMON
$2.00
DANIEL ALFREDSSON
| COMMON
$0.75
DANIEL ALFREDSSON
| COMMON
$0.60
DANIEL ALFREDSSON
| COMMON
$0.50
DANIEL ALFREDSSON
| COMMON
$1.25
DANIEL ALFREDSSON
| COMMON
$0.60
DANIEL ALFREDSSON
| COMMON
$0.50
DANIEL ALFREDSSON
| COMMON
$0.75
DANIEL ALFREDSSON
| COMMON
$0.75
DANIEL ALFREDSSON
| COMMON
$0.60
DANIEL ALFREDSSON
| COMMON
$1.00
DANIEL ALFREDSSON
| COMMON
$0.50
DANIEL ALFREDSSON
| COMMON
$0.75
DANIEL ALFREDSSON
| COMMON
$0.75
DANIEL ALFREDSSON
| COMMON
$2.50
DANIEL ALFREDSSON
| COMMON
$0.75
DANIEL ALFREDSSON
| COMMON
$1.00
DANIEL ALFREDSSON
| COMMON
$0.50
DANIEL ALFREDSSON
| COMMON
$0.50
DANIEL ALFREDSSON
| COMMON
$0.50
DANIEL ALFREDSSON
| COMMON
$0.50
DANIEL ALFREDSSON
| COMMON
$0.75
DANIEL ALFREDSSON
| COMMON
$0.50
DANIEL ALFREDSSON
| COMMON
$0.60
DANIEL ALFREDSSON
| COMMON
$0.60
DANIEL ALFREDSSON
| COMMON
$1.00
DANIEL ALFREDSSON
| COMMON
$0.75
DANIEL ALFREDSSON
| COMMON
$0.50
DANIEL ALFREDSSON
| SEASON HIGHLIGHT
$0.40
DANIEL ALFREDSSON
| COMMON
$0.40
DANIEL ALFREDSSON
| COMMON
$0.75
DANIEL ALFREDSSON
| COMMON
$1.50
DANIEL ALFREDSSON
| COMMON
$0.50
DANIEL ALFREDSSON
| COMMON
$3.00
DANIEL ALFREDSSON
| COMMON
$0.40
DANIEL ALFREDSSON
| COMMON
$0.40
DANIEL ALFREDSSON
| COMMON
$1.00
DANIEL ALFREDSSON
| COMMON
$0.75
DANIEL ALFREDSSON
| COMMON
$0.50
DANIEL ALFREDSSON
| COMMON
$1.00
DANIEL ALFREDSSON
| SHORT PRINT
$2.50
---