On Tophockeycards.com your hockey cards value for free. Bonus: Get hockey stats from your favorite hockey players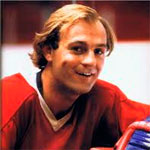 Guy Damien 'The Flower' / 'Le Démon Blond' Lafleur (born September 20, 1951) is a former Canadian professional ice hockey player who is widely regarded as one of the most naturally gifted and popular players ever to play professional ice hockey. At first, Guy Lafleur struggled to live up to expectations in the league, but by 1974 had developed his trademark smooth skating style and scoring touch. He was a cornerstone of five Stanley Cup championship teams. He was one of the most popular players on a very popular team; fans chanted 'Guy, Guy, Guy!' whenever he touched the puck. He became known among English fans as 'Flower', while among French fans he was dubbed 'le Démon Blond' (the Blonde Demon).
After being inducted into the Hockey Hall of Fame, Lafleur returned to the NHL briefly from 1988–89 through 1990–91 with the New York Rangers and the Quebec Nordiques. Lafleur remained one of the few players that did not wear protective helmets.
GUY LAFLEUR NHL Seasons Stats
Age
Season
Team
Pos
GP
G
A
PTS
+/-
PIM
Shot %
39
1990-91
QUE
RW
59
12
16
28
-10
2
13.3
38
1989-90
QUE
RW
39
12
22
34
-15
4
12
37
1988-89
NYR
RW
67
18
27
45
1
12
14.8
33
1984-85
MTL
RW
19
2
3
5
-3
10
5.7
32
1983-84
MTL
RW
80
30
40
70
-14
19
13.8
31
1982-83
MTL
RW
68
27
49
76
5
12
5.5
30
1981-82
MTL
RW
66
27
57
84
32
24
6.4
29
1980-81
MTL
RW
51
27
43
70
24
29
6.3
28
1979-80
MTL
RW
74
50
75
125
40
12
12.8
NHL season totals
523
205
332
537
7
124
10.1
GUY LAFLEUR Hockey Cards
MIKE BOSSY /MARCEL DIONNE /GUY LAFLEUR
| GOAL LEADERS
$5.00
BRYAN TROTTIER /GUY LAFLEUR /MARCEL DIONNE /BOB MACMILLAN
| ASSIST LEADERS
$3.00
BRYAN TROTTIER /MARCEL DIONNE /GUY LAFLEUR
| SCORING LEADERS
$4.00
GUY LAFLEUR /MIKE BOSSY /BRYAN TROTTIER /JEAN PRONOVOST /TED BULLEY
| GAME WINNING/GOALS LEADERS
$4.00
GUY LAFLEUR
| COMMON
$10.00
GUY LAFLEUR
| COMMON
$1.00
GUY LAFLEUR
| COMMON
$0.75
GUY LAFLEUR
| COMMON
$1.00
GUY LAFLEUR
| COMMON
$0.40
GUY LAFLEUR
| COMMON
$0.50
GUY LAFLEUR
| COMMON
$0.60
GUY LAFLEUR
| TRIBUTE
$0.60
GUY LAFLEUR
| TRIBUTE
$0.60
GUY LAFLEUR
| TRIBUTE
$0.60
GUY LAFLEUR
| ALL-STAR
$0.30
GUY LAFLEUR
| SPEED AND GRACE
$0.50
GUY LAFLEUR
| AWARDS AND ACHIEVEMENTS
$0.50
GUY LAFLEUR
| A HALL OF FAMER
$0.50
GUY LAFLEUR
| FAREWELL
$0.60
GUY LAFLEUR
| HEROES OF THE NHL
$0.60
GUY LAFLEUR
| JUMBO
$3.00
GUY LAFLEUR
| COMMON
$4.00
GUY LAFLEUR
| LEGENDS
$2.50
GUY LAFLEUR
| COMMON
$1.00
GUY LAFLEUR
| MARQUEE LEGEND
$2.50
GUY LAFLEUR
| MARQUEE LEGEND
$2.50
GUY LAFLEUR
| COMMON
$3.00
GUY LAFLEUR
| COMMON
$0.75
GUY LAFLEUR
| LEGEND
$3.00
GUY LAFLEUR
| COMMON
$1.00
GUY LAFLEUR
| COMMON
$3.00
GUY LAFLEUR
| COMMON
$4.00
---