On Tophockeycards.com your hockey cards value for free. Bonus: Get hockey stats from your favorite hockey players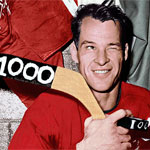 Gordon 'Gordie' Howe, (born March 31, 1928) is a Canadian retired professional ice hockey player. Gordie Howe is often referred to as Mr. Hockey, and is generally regarded as one of the greatest hockey players of all time.
Gordie Howe is most famous for his scoring prowess, physical strength, and career longevity. He is the only player to have competed in the NHL in five (1940s through 1980s) different decades. A four-time Stanley Cup champion with the Red Wings, he won six Hart Trophies as the league's most valuable player and six Art Ross Trophies as the leading scorer. Gordie Howe was the recipient of the first NHL Lifetime Achievement Award in 2008.
Gordie Howe was also referred to during his career as Power, Mr. Everything, Mr. All-Star, The Most, The Great Gordie, The King of Hockey, The Legend, The Man, No. 9, and 'Mr. Elbows' (for his tough physical play). His name and nickname, 'Mr. Hockey,' as well as his wife's nickname as 'Mrs. Hockey,' are registered trademarks.
GORDIE HOWE NHL Seasons Stats
Age
Season
Team
Pos
GP
G
A
PTS
+/-
PIM
Shot %
51
1979-80
HAR
RW
80
15
26
41
9
42
2.1
NHL season totals
80
15
26
41
9
42
2.1
GORDIE HOWE Hockey Cards
GORDIE HOWE
| COMMON
$25.00
GORDIE HOWE
| HALL OF FAME
$1.00
GORDIE HOWE
| COMMON
$0.75
GORDIE HOWE
| JUMBO
$8.00
GORDIE HOWE
| COMMON
$2.50
GORDIE HOWE
| COMMON
$1.50
GORDIE HOWE
| COMMON
$10.00
GORDIE HOWE
| LEGENDS
$6.00
GORDIE HOWE
| LEGEND
$15.00
GORDIE HOWE
| LEGEND
$10.00
GORDIE HOWE
| IMMORTALS
$8.00
GORDIE HOWE
| MARQUEE LEGENDS
$3.00
---