CONNOR MCDAVID Hockey Cards
On Tophockeycards.com your hockey cards value for free. Bonus: Get hockey stats from your favorite hockey players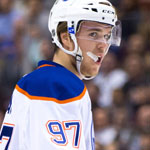 Connor McDavid (born January 13, 1997) is a Canadian ice hockey centre and captain for the Edmonton Oilers of the National Hockey League (NHL).
McDavid was drafted first overall in the 2015 NHL Entry Draft by the Edmonton Oilers. On July 3, 2015, McDavid signed a three-year entry-level contract with the team. He made his NHL debut on October 9, 2015, in a 3–1 loss to the St. Louis Blues.
McDavid scored his first goal (and point) four nights later against goaltender Kari Lehtonen, in a 4–2 loss to the Dallas Stars. On November 3, 2015, he broke his clavicle during a game against the Philadelphia Flyers and missed 37 games. He returned to the line-up on February 2, 2016, scoring a goal and gaining two assists. In his first game against his boyhood team, the Toronto Maple Leafs, McDavid had his first five-point night, recording a point on every goal in a 5–2 victory, including three assists (on three Jordan Eberle goals) and two goals. He finished 3rd in voting for the Calder Memorial Trophy as the NHL's Rookie of the Year despite participating in only 45 games in his rookie season.
On October 5, 2016, McDavid was named captain of the Oilers, making him the youngest captain in NHL history. At 19 years and 266 days, McDavid was 20 days younger than Gabriel Landeskog when he was named captain of the Colorado Avalanche. On January 18, McDavid recorded his 100th career point with an assist against the Florida Panthers, doing so in 92 games and becoming the fourth fastest active player to reach 100 points.
CONNOR MCDAVID NHL Seasons Stats
Age
Season
Team
Pos
GP
G
A
PTS
+/-
PIM
Shot %
25
2021-22
EDM
C
80
44
79
123
28
45
14
24
2020-21
EDM
C
56
33
72
105
21
20
16.5
23
2019-20
EDM
C
64
34
63
97
-6
28
16
22
2018-19
EDM
C
78
41
75
116
3
20
17.1
21
2017-18
EDM
C
82
41
67
108
20
26
15
20
2016-17
EDM
C
82
30
70
100
27
26
12
19
2015-16
EDM
C
45
16
32
48
-1
18
15.2
NHL season totals
487
239
458
697
13
183
15.1
CONNOR MCDAVID Hockey Cards
CONNOR MCDAVID
| ROOKIE
$15.00
CONNOR MCDAVID /SAM BENNETT CL
| CHECKLIST
$10.00
CONNOR MCDAVID
| COMMON
$20.00
CONNOR MCDAVID
| COMMON
$30.00
CONNOR MCDAVID
| COMMON
$50.00
CONNOR MCDAVID
| COMMON
$5.00
CONNOR MCDAVID
| COMMON
$2.50
CONNOR MCDAVID
| SEASON HIGHLIGHTS
$12.00
CONNOR MCDAVID
| COMMON
$4.00
CONNOR MCDAVID
| COMMON
$2.50
CONNOR MCDAVID
| SEASON HIGHLIGHTS
$12.00
CONNOR MCDAVID
| LEAGUE LEADERS
$12.00
CONNOR MCDAVID
| LEAGUE LEADERS
$12.00
CONNOR MCDAVID
| COMMON
$5.00
CONNOR MCDAVID
| COMMON
$8.00
CONNOR MCDAVID
| COMMON
$4.00
CONNOR MCDAVID
| COMMON
$3.00
CONNOR MCDAVID
| COMMON
$8.00
CONNOR MCDAVID
| COMMON
$3.00
CONNOR MCDAVID
| SEASON HIGHLIGHTS
$12.00
CONNOR MCDAVID
| LEAGUE LEADERS
$12.00
CONNOR MCDAVID
| COMMON
$3.00
CONNOR MCDAVID
| CHECKLIST
$3.00
CONNOR MCDAVID
| COMMON
$6.00
CONNOR MCDAVID
| COMMON
$2.50
CONNOR MCDAVID
| COMMON
$2.00
CONNOR MCDAVID
| COMMON
$5.00
CONNOR MCDAVID
| COMMON
$4.00
CONNOR MCDAVID
| COMMON
$2.00
CONNOR MCDAVID
| COMMON
$3.00
CONNOR MCDAVID
| COMMON
$3.00
CONNOR MCDAVID
| COMMON
$4.00
CONNOR MCDAVID
| ALL STAR
$4.00
CONNOR MCDAVID /LEON DRAISAITL
| CHECKLIST
$4.00
CONNOR MCDAVID
| COMMON
$4.00
CONNOR MCDAVID
| SHORT PRINT
$6.00
CONNOR MCDAVID
| CHECKLIST
$6.00
CONNOR MCDAVID
| COMMON
$4.00
CONNOR MCDAVID
| COMMON
$3.00
CONNOR MCDAVID
| COMMON
$8.00
CONNOR MCDAVID
| COMMON
$8.00
CONNOR MCDAVID
| COMMON
$8.00
CONNOR MCDAVID
| COMMON
$4.00
CONNOR MCDAVID
| SHORT PRINT
$6.00
CONNOR MCDAVID
| COMMON
$4.00
CONNOR MCDAVID
| COMMON
$6.00
---