AUSTON MATTHEWS Hockey Cards
On Tophockeycards.com your hockey cards value for free. Bonus: Get hockey stats from your favorite hockey players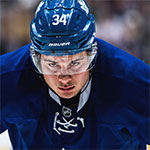 Auston Matthews (born September 17, 1997) is an American professional ice hockey player.
Widely considered the top prospect of the 2016 NHL Entry Draft, Matthews was drafted first overall by the Toronto Maple Leafs. Matthews became the first player in modern NHL history to score four goals in his NHL debut.
Matthews was the first NHL player to have the most consecutive games with a shot on goal to start a career. He ended his 103-game streak in a 4–1 victory over the Calgary Flames on November 28, 2017.
In season 2018-19, Matthews became the youngest player in league history to record five multi-point games to open the season, breaking a record set by Wayne Gretzky in 1983.
AUSTON MATTHEWS NHL Seasons Stats
Age
Season
Team
Pos
GP
G
A
PTS
+/-
PIM
Shot %
24
2021-22
TOR
C
73
60
46
106
20
18
17.2
23
2020-21
TOR
C
52
41
25
66
21
10
18.5
22
2019-20
TOR
C
70
47
33
80
19
8
16.2
21
2018-19
TOR
C
68
37
36
73
-9
12
14.7
20
2017-18
TOR
C
62
34
29
63
25
12
18.2
19
2016-17
TOR
C
82
40
29
69
2
14
14.3
NHL season totals
407
259
198
457
13
74
16.5
AUSTON MATTHEWS Hockey Cards
AUSTON MATTHEWS
| COMMON
$2.00
AUSTON MATTHEWS
| SEASON HIGHLIGHTS
$10.00
AUSTON MATTHEWS
| LEAGUE LEADERS
$10.00
AUSTON MATTHEWS
| COMMON
$4.00
AUSTON MATTHEWS
| COMMON
$8.00
AUSTON MATTHEWS
| COMMON
$5.00
AUSTON MATTHEWS
| TROPHY WINNERS
$8.00
AUSTON MATTHEWS
| RECORD HOLDER
$8.00
AUSTON MATTHEWS
| MEMORABLE MOMENTS
$8.00
AUSTON MATTHEWS
| MEMORABLE MOMENTS
$8.00
AUSTON MATTHEWS
| MEMORABLE MOMENTS
$8.00
AUSTON MATTHEWS
| COMMON
$3.00
AUSTON MATTHEWS
| COMMON
$6.00
AUSTON MATTHEWS
| COMMON
$2.50
AUSTON MATTHEWS
| COMMON
$3.00
AUSTON MATTHEWS
| CHECKLIST
$2.50
AUSTON MATTHEWS
| COMMON
$5.00
AUSTON MATTHEWS
| COMMON
$1.50
AUSTON MATTHEWS
| COMMON
$2.50
AUSTON MATTHEWS
| COMMON
$4.00
AUSTON MATTHEWS
| COMMON
$2.50
AUSTON MATTHEWS /JOHNNY GAUDREAU
| CHECKLIST
$2.50
AUSTON MATTHEWS
| COMMON
$2.00
AUSTON MATTHEWS
| COMMON
$2.50
AUSTON MATTHEWS
| COMMON
$3.00
AUSTON MATTHEWS /ELIAS PETTERSSON
| CHECKLIST
$3.00
AUSTON MATTHEWS
| SHORT PRINT
$4.00
AUSTON MATTHEWS
| COMMON
$2.50
AUSTON MATTHEWS
| COMMON
$6.00
AUSTON MATTHEWS
| COMMON
$3.00
AUSTON MATTHEWS
| SHORT PRINT
$5.00
AUSTON MATTHEWS
| COMMON
$5.00
---