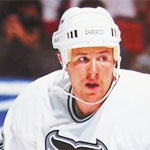 Steven Rice (born May 26, 1971) is a Canadian former professional ice hockey right winger who played eight seasons in the National Hockey League. Rice was born in Kitchener, Ontario, but grew up in Waterloo, Ontario.
Rice was drafted 20th overall by the New York Rangers in the 1989 NHL Entry Draft. Following his outstanding performance at the 1991 World Junior Hockey Championships, in which he captained Canada to the gold medal, he was considered one of the top young power forward prospects in the game. In the summer of 1991, he was sent to the Edmonton Oilers as one of the centerpieces going the other way in the trade of superstar centre Mark Messier.
His results in Edmonton would be mixed - he spent most of his first two seasons there with their AHL affiliate, but established himself as a full-time NHL player in 1993–94 scoring 17 goals. Following that season, he signed free-agent offer sheet with the Hartford Whalers, and joined the Whalers the following season when Edmonton declined to match the offer. However, a nightmare campaign in 1997–98 following the franchise's move to Carolina, in which he scored just 2 goals, effectively ended his NHL career. He retired at the premature age of 27.
Age
Season
Team
Pos
GP
G
A
PTS
+/-
PIM
Shot %
26
1997-98
CAR
RW
47
2
4
6
-16
38
5.1
25
1996-97
HAR
RW
78
21
14
35
-11
59
13.2
24
1995-96
HAR
RW
59
10
12
22
-4
47
9.3
23
1994-95
HAR
RW
40
11
10
21
2
61
19.3
22
1993-94
EDM
RW
63
17
15
32
-10
36
13.2
21
1992-93
EDM
RW
28
2
5
7
-4
28
6.9
20
1991-92
EDM
RW
3
0
0
0
-2
2
0
19
1990-91
NYR
RW
11
1
1
2
2
4
8.3
NHL season totals
329
64
61
125
-5
275
9.4