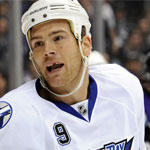 Steve Downie (born April 3, 1987) is a Canadian professional ice hockey player. Downie grew up in Holland Landing, Ontario.
Downie was selected in the first round, 29th overall, in the 2005 NHL Entry Draft by the Philadelphia Flyers.
In his first full professional season in 2007–08, Downie's professional career got off to an inauspicious start during a preseason game against the Ottawa Senators on September 25, 2007. He was involved in an incident in which he checked unsuspecting left winger Dean McAmmond into the boards, while his feet were off the ice. Downie was suspended by the NHL for 20 games three days later for deliberate injury to McAmmond, as the NHL were cracking down on any play resulting in a head injury. To date, it is the fifth longest suspension given by the league.
In the 2009–10 season, Downie also became the first player since Theo Fleury in 2002, to notch 20 goals and over 200 penalty minutes in a single season.
Steve Downie Regular season and playoffs stats
Regular season
Playoffs
Season
Team
GP
G
A
Pts
PIM
GP
G
A
Pts
PIM
2007–08
Philadelphia Flyers
32
6
6
12
73
6
0
1
1
10
2008–09
Philadelphia Flyers
6
0
0
0
11
—
—
—
—
—
2008–09
Tampa Bay Lightning
23
3
3
6
54
—
—
—
—
—
2009–10
Tampa Bay Lightning
79
22
24
46
208
—
—
—
—
—
2010–11
Tampa Bay Lightning
57
10
22
32
171
17
2
12
14
40
2011–12
Tampa Bay Lightning
55
12
16
28
121
—
—
—
—
—
2011–12
Colorado Avalanche
20
2
11
13
16
—
—
—
—
—
2012–13
Colorado Avalanche
2
0
1
1
6
—
—
—
—
—
2013–14
Colorado Avalanche
11
1
6
7
36
—
—
—
—
—
2013–14
Philadelphia Flyers
51
3
14
17
70
—
—
—
—
—
NHL totals
336
59
103
162
766
23
2
13
15
50
Age
Season
Team
Pos
GP
G
A
PTS
+/-
PIM
Shot %
28
2015-16
ARI
RW
26
3
3
6
1
53
13.6
27
2014-15
PIT
RW
72
14
14
28
2
238
13.5
25
2012-13
COL
RW
2
0
1
1
1
6
0
23
2010-11
TBL
RW
57
10
22
32
8
171
12
22
2009-10
TBL
RW
79
22
24
46
14
208
19
20
2007-08
PHI
RW
32
6
6
12
2
73
24
NHL season totals
268
55
70
125
5
749
13.7