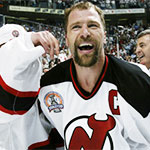 Ronald Scott Stevens (born April 1, 1964) is a retired professional ice hockey defenceman. Although offensively capable, Stevens was largely known for his defensive play and his heavy body checking on opponents.
Stevens was taken fifth overall in the 1982 NHL Entry Draft by the Washington Capitals. Due to injuries to other players during training camp, Stevens made the team at 18 years old, and never played a game in the minor leagues. He made an immediate impact, scoring on his first shot in his first NHL game. Stevens' debut with the Capitals coincided with the team's first playoff appearance, although they were eliminated in the first round.
The 1984–85 season would be a breakout year for Stevens. He set a team record for defencemen by scoring 16 power play goals, and tied a team record for goals by a defenceman with 21.
The 1986–87 season saw Stevens return to his old ways, as he spent a career-high 283 minutes in the penalty box. The total set a Capitals record (since broken) for penalty minutes in a season. During the 1987–88 season, Stevens set Capitals records for most assists and most points by a defenceman in a game, with five assists against the Los Angeles Kings on December 6, 1987.
Stevens' signing with St-Louis Blues had far-reaching ramifications on player contracts in the NHL. At the time, the deal made him the highest-paid defenceman in the league.
Scott Stevens retired on September 6, 2005, after 1635 NHL games, fourth at the time (and now seventh) all-time in games played, the leader in games played by a defenceman (since passed by Chris Chelios), and 14th all-time in career penalty minutes.
Age
Season
Team
Pos
GP
G
A
PTS
+/-
PIM
Shot %
39
2003-04
NJD
D
38
3
9
12
3
22
4.4
38
2002-03
NJD
D
81
4
16
20
18
41
3.5
37
2001-02
NJD
D
82
1
16
17
15
44
0.8
36
2000-01
NJD
D
81
9
22
31
40
71
5.3
35
1999-00
NJD
D
78
8
21
29
30
103
6
34
1998-99
NJD
D
75
5
22
27
29
64
4.5
33
1997-98
NJD
D
80
4
22
26
19
80
4.3
32
1996-97
NJD
D
79
5
19
24
26
70
3
31
1995-96
NJD
D
82
5
23
28
7
100
2.9
30
1994-95
NJD
D
48
2
20
22
4
56
1.8
29
1993-94
NJD
D
83
18
60
78
53
112
8.4
28
1992-93
NJD
D
81
12
45
57
14
120
8.2
27
1991-92
NJD
D
68
17
42
59
24
124
10.9
26
1990-91
STL
D
78
5
44
49
23
150
3.1
25
1989-90
WSH
D
56
11
29
40
1
154
7.7
24
1988-89
WSH
D
80
7
61
68
1
225
3.6
23
1987-88
WSH
D
80
12
60
72
14
184
5.2
22
1986-87
WSH
D
77
10
51
61
13
283
6.1
21
1985-86
WSH
D
73
15
38
53
0
165
12.4
20
1984-85
WSH
D
80
21
44
65
19
221
12.4
19
1983-84
WSH
D
78
13
32
45
26
201
8.4
NHL season totals
1558
187
696
883
18
2590
5.9