Get a grip on these
Hockey cards NOW for less
!
When available, click on to see the card's image

Milotche Media's TopHockeyCards.com
Can't find your card? Request the value of your hockey cards!
LIVE LAST 7 DAYS TOP 10 HOCKEY PLAYERS SEARCHES
The arrows represent the comparison of searches from the current week (7 days) and the week before
LIVE NHL SCOREBOARD
TOP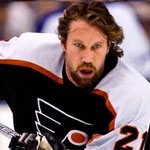 Peter Mattias 'Foppa' Forsberg ( born July 20, 1973) is a retired Swedish professional ice hockey player. Known for his on-ice vision and physical play, Peter Forsberg is considered one of the most complete players of his generation. As of 2011, he stands tenth all-time in career points-per-game and fourth all-time in career assists-per-game in the NHL, only behind Wayne Gretzky, Mario Lemieux and Bobby Orr.
Peter Forsberg 19-year professional career includes 13 years in the National Hockey League where he won two Stanley Cups with the Colorado Avalanche, as well as numerous individual honors including the prestigious Hart Memorial Trophy in 2003. He is a member of the Triple Gold Club and the only Swede who has won the three competitions twice. As of the end of the 2008–09 NHL season, he is the fourth-highest all-time Swedish point scorer in the NHL regular season. Before his short-lived comeback season in 2011, Peter Forsberg never had a negative plus-minus rating, giving him an overall career rating of +238.
PETER FORSBERG NHL Stats
Age
Season
Team
Pos
GP
G
A
PTS
+/-
PIM
Shot %
37
2010-11
COL
C
2
0
0
0
-4
4
0
34
2007-08
COL
C
9
1
13
14
7
8
6.7
33
2006-07
TOT
C
57
13
42
55
7
88
13.1
32
2005-06
PHI
C
60
19
56
75
21
46
14.4
30
2003-04
COL
C
39
18
37
55
16
30
21.2
29
2002-03
COL
C
75
29
77
106
52
70
17.5
27
2000-01
COL
C
73
27
62
89
23
54
15.2
26
1999-00
COL
C
49
14
37
51
9
52
13.3
25
1998-99
COL
C
78
30
67
97
27
108
13.8
24
1997-98
COL
C
72
25
66
91
6
94
12.4
23
1996-97
COL
C
65
28
58
86
31
73
14.9
22
1995-96
COL
C
82
30
86
116
26
47
13.8
21
1994-95
QUE
C
47
15
35
50
17
16
17.4
NHL season totals
708
249
636
885
18
690
13.4