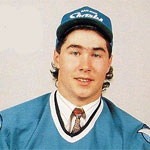 Patrick J. Falloon (born September 22, 1972) is a Canadian retired professional ice hockey right winger who played nine seasons in the National Hockey League between 1991 and 2000. The first player drafted by the Sharks, Falloon had a standout junior career with the Spokane Chiefs of the Western Hockey League, with consecutive 60 goal seasons before being drafted.
As the second overall pick, Falloon will probably always be remembered as the 'consolation prize' in the 1991 draft, since No. 1 pick Eric Lindros was easily the most coveted player available that year.
Pat Falloon was drafted 2nd overall by the San Jose Sharks in the 1991 NHL Entry Draft. Falloon was traded November 16, 1995 to the Philadelphia Flyers. He was traded January 17, 1998 to the Ottawa Senators. He later played for both the Edmonton Oilers and Pittsburgh Penguins.
Still, Falloon was considered a talented prospect in his own right, and the Sharks expected him to be one of the building blocks of their young franchise in the coming decade. Falloon delivered decent returns as a rookie, notching 59 points in 1991–92, but never topped that production for the remainder of his career. Later in his career Falloon became known more for his lack of conditioning which earned him the nickname 'Fat Balloon'.
Age
Season
Team
Pos
GP
G
A
PTS
+/-
PIM
Shot %
27
1999-00
TOT
RW
63
9
22
31
4
14
9.8
26
1998-99
EDM
RW
82
17
23
40
-4
20
11.2
25
1997-98
TOT
RW
58
8
10
18
-8
16
5.9
24
1996-97
PHI
RW
52
11
12
23
-8
10
8.9
23
1995-96
TOT
RW
71
25
26
51
14
10
14.7
22
1994-95
SJS
RW
46
12
7
19
-4
25
13.2
21
1993-94
SJS
RW
83
22
31
53
-3
18
11.4
20
1992-93
SJS
RW
41
14
14
28
-25
12
10.7
19
1991-92
SJS
RW
79
25
34
59
-32
16
13.8
NHL season totals
575
143
179
322
-7
141
11.1