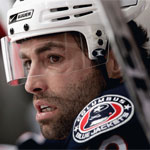 Michael Anthony 'Mike' Peca (born March 26, 1974) is a retired Canadian professional ice hockey forward in the National Hockey League (NHL). He most recently played for the Columbus Blue Jackets of the NHL.
Michael Peca was drafted in the second round, 40th overall by the Vancouver Canucks in the 1992 NHL Entry Draft. Peca has twice won the Frank J. Selke Trophy for being the best defensive forward, in 1996–97 and 2001–02.
Peca captained the Buffalo Sabres to the Stanley Cup Finals in 1999. He was acquired by the Edmonton Oilers in a trade with the New York Islanders in exchange for Mike York.
On January 19, 2010, Peca announced his retirement from professional hockey through NHLPA.
Beginning in the 2012-2013 season, Peca was named Head Coach of the Buffalo Junior Sabres of the Ontario Junior Hockey League(OJHL)where he coach through the 2013-2014 season.
Age
Season
Team
Pos
GP
G
A
PTS
+/-
PIM
Shot %
34
2008-09
CBJ
C
71
4
18
22
-6
58
5.4
33
2007-08
CBJ
C
65
8
26
34
-1
64
9.3
32
2006-07
TOR
C
35
4
11
15
2
60
9.5
31
2005-06
EDM
C
71
9
14
23
-4
56
8.3
29
2003-04
NYI
C
76
11
29
40
17
71
9.4
28
2002-03
NYI
C
66
13
29
42
-4
43
11.1
27
2001-02
NYI
C
80
25
35
60
19
62
14.9
25
1999-00
BUF
C
73
20
21
41
6
67
13.9
24
1998-99
BUF
C
82
27
29
56
7
81
13.6
23
1997-98
BUF
C
61
18
22
40
12
57
13.6
22
1996-97
BUF
C
79
20
29
49
26
80
14.6
21
1995-96
BUF
C
68
11
20
31
-1
67
10.1
20
1994-95
VAN
C
33
6
6
12
-6
30
13
19
1993-94
VAN
C
4
0
0
0
-1
2
0
NHL season totals
864
176
289
465
5
798
10.5