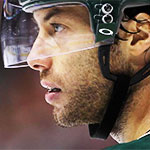 Matthew David Cullen (born November 2, 1976) is an American professional ice hockey centerman. Cullen was born in Virginia, Minnesota, but grew up in Moorhead, Minnesota.
He was then drafted in the second round, 35th overall, by the Mighty Ducks of Anaheim in the 1996 NHL Entry Draft. In the 2005–06 season, after NHL play resumed, Cullen won a Stanley Cup with the Carolina Hurricanes. After the season, he became an unrestricted free agent and subsequently signed a four-year contract with the New York Rangers.
On February 22, 2009, Cullen scored the first hat-trick of his career in a game against the Colorado Avalanche.
Age
Season
Team
Pos
GP
G
A
PTS
+/-
PIM
Shot %
41
2017-18
MIN
C
79
11
11
22
-1
20
10.6
40
2016-17
PIT
C
72
13
18
31
4
30
14
39
2015-16
PIT
C
82
16
16
32
5
20
13.6
38
2014-15
NSH
C
62
7
18
25
8
16
7.8
37
2013-14
NSH
C
77
10
29
39
4
32
7.5
36
2012-13
MIN
C
42
7
20
27
9
10
8.9
35
2011-12
MIN
C
73
14
21
35
-10
24
8.5
34
2010-11
MIN
C
78
12
27
39
-14
34
8
33
2009-10
TOT
C
81
16
32
48
-7
34
8.2
32
2008-09
CAR
C
69
22
21
43
11
20
15.8
31
2007-08
CAR
C
59
13
36
49
2
32
9.5
30
2006-07
NYR
C
80
16
25
41
0
52
7.4
29
2005-06
CAR
C
78
25
24
49
4
40
11.7
27
2003-04
FLA
C
56
6
13
19
-2
24
8
26
2002-03
TOT
C
80
13
20
33
-8
34
9.9
25
2001-02
MDA
C
79
18
30
48
-1
24
11
24
2000-01
MDA
C
82
10
30
40
-23
38
6.3
23
1999-00
MDA
C
80
13
26
39
5
24
9.5
22
1998-99
MDA
C
75
11
14
25
-12
47
9.8
21
1997-98
MDA
C
61
6
21
27
-4
23
8
NHL season totals
1445
259
452
711
-2
578
9.7