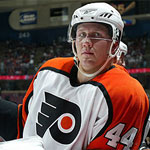 Joni Pitkänen (born September 19, 1983) is a Finnish professional ice hockey defenceman of the National Hockey League (NHL).
Joni Pitkänen started his pro hockey career in the Kärpät organization in the Finnish SM-liiga, and after three seasons there he crossed the Atlantic to play for the Philadelphia Flyers, who drafted him in the 2002 NHL Entry Draft with their first round draft pick (fourth overall).
When Joni Pitkänen came to the United States to play for the Philadelphia Flyers, he hardly spoke a word of English, so teammate and fellow Finn Sami Kapanen translated for him, and eventually taught him English.
During his rookie season, Pitkänen was ranked second among NHL rookies in powerplay points (5–12–17) and powerplay assists. The 23-year-old defenseman led in ice time in each of the last two seasons with Philadelphia. On July 2, 2008, Pitkänen signed a three-year, $12 million contract with the Carolina Hurricanes as a restricted free agent.
Pitkänen missed the entire 2013-14 season, his last under contract to the Hurricanes, with a broken heel.
Age
Season
Team
Pos
GP
G
A
PTS
+/-
PIM
Shot %
29
2012-13
CAR
D
22
1
8
9
2
12
2.9
28
2011-12
CAR
D
30
5
12
17
-15
16
8.1
27
2010-11
CAR
D
72
5
30
35
-2
60
3.5
26
2009-10
CAR
D
71
6
40
46
-11
72
3.7
25
2008-09
CAR
D
71
7
26
33
11
58
4.8
24
2007-08
EDM
D
63
8
18
26
-5
56
7.9
23
2006-07
PHI
D
77
4
39
43
-25
88
2.9
22
2005-06
PHI
D
58
13
33
46
22
78
11
20
2003-04
PHI
D
71
8
19
27
15
44
6
NHL season totals
535
57
225
282
-1
484
5.6