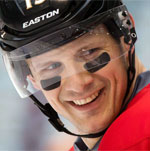 Jason Anthony Rocco Spezza (born June 13, 1983) is a Canadian professional ice hockey centre.
After beginning his major junior career at the early age of 15 in the Ontario Hockey League (OHL), Jason Spezza was selected second overall in the 2001 NHL Entry Draft by the Ottawa Senators. In 2005–06, Spezza set an Ottawa Senators franchise record with 71 assists, while hitting the 90-point mark for the first of two times in his NHL career. Beginning 2007–08 in the last season of his contract, Spezza signed a seven-year contract extension with the Senators worth $49 million on November 2, 2007.
On September 14, 2013, Spezza was named the eighth captain in Senators' franchise history, replacing long time teammate Daniel Alfredsson, who had departed to the Detroit Red Wings on July 5, 2013 as a free agent. On July 1, 2014 Spezza's wish was granted as he was traded to the Dallas Stars.
Jason Spezza was on the cover of the NHL 2K8 video game for the PlayStation 2, PlayStation 3, Xbox and the Xbox 360 video game consoles.
Age
Season
Team
Pos
GP
G
A
PTS
+/-
PIM
Shot %
35
2018-19
DAL
C
76
8
19
27
-13
29
6.6
34
2017-18
DAL
C
78
8
18
26
-12
12
5.8
33
2016-17
DAL
C
68
15
35
50
-18
29
10.1
32
2015-16
DAL
C
75
33
30
63
4
22
16.3
31
2014-15
DAL
C
82
17
45
62
-7
28
8.3
30
2013-14
OTT
C
75
23
43
66
-26
46
10.3
29
2012-13
OTT
C
5
2
3
5
3
2
16.7
28
2011-12
OTT
C
80
34
50
84
11
36
14.7
27
2010-11
OTT
C
62
21
36
57
-7
28
11.2
26
2009-10
OTT
C
60
23
34
57
0
20
13.9
25
2008-09
OTT
C
82
32
41
73
-14
79
13
24
2007-08
OTT
C
76
34
58
92
26
66
16.2
23
2006-07
OTT
C
67
34
53
87
19
45
21
22
2005-06
OTT
C
68
19
71
90
23
33
12.2
20
2003-04
OTT
C
78
22
33
55
22
71
15.5
19
2002-03
OTT
C
33
7
14
21
-3
8
10.8
NHL season totals
1065
332
583
915
0
554
12.7