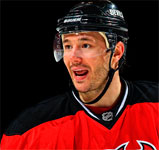 Ilya Valeryevich Kovalchuk (born April 15, 1983) is a Russian professional ice hockey left winger. Drafted first overall in the 2001 NHL Entry Draft by the Atlanta Thrashers, he began his NHL career in 2001-02 with Atlanta and was nominated for the Calder Memorial Trophy as league rookie-of-the-year.
Ilya Kovalchuk is a three-time NHL All-Star and won the Maurice 'Rocket' Richard Trophy as the league's leading goal-scorer in 2004 in a three-way tie with Jarome Iginla and Rick Nash. After eight seasons with the Thrashers, he was traded to the Devils in February 2010, and later signed a 15-year, $100 million contract during the off-season after a 17-year, $102 million was rejected by the league.
On July 11, 2013, Ilya Kovalchuk chose to quit the National Hockey League at the age of 30. Although the Devils' general manager, Lou Lamoriello, knew that Kovalchuk had been considering retirement since before the 2012–13 shortened season, Kovalchuk's departure came as a surprise to the public. Upon his leaving, Kovalchuk had $77 million and 12 years remaining on his contract. Kovalchuk claimed that he desired to return home to Russia along with his family.
Age
Season
Team
Pos
GP
G
A
PTS
+/-
PIM
Shot %
35
2018-19
LAK
LW
64
16
18
34
-26
10
11.3
29
2012-13
NJD
LW
37
11
20
31
-6
18
8.9
28
2011-12
NJD
LW
77
37
46
83
-9
33
11.9
27
2010-11
NJD
LW
81
31
29
60
-26
28
12.7
25
2008-09
ATL
LW
79
43
48
91
-12
50
15.6
24
2007-08
ATL
LW
79
52
35
87
-12
52
18.4
23
2006-07
ATL
LW
82
42
34
76
-2
66
12.5
22
2005-06
ATL
LW
78
52
46
98
-6
68
16.1
20
2003-04
ATL
LW
81
41
46
87
-10
63
12
19
2002-03
ATL
LW
81
38
29
67
-24
57
14.8
18
2001-02
ATL
LW
65
29
22
51
-19
28
15.8
NHL season totals
804
392
373
765
-14
473
13.6