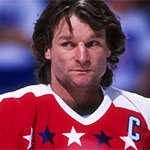 Dale Robert Hunter (born July 31, 1960) is a Canadian former professional ice hockey player. Hunter was born in Petrolia, Ontario.
He was selected 41st overall by the Quebec Nordiques in the 1979 NHL Entry Draft and played seven seasons in Quebec.
According to his former Quebec Nordiques coach Michel Bergeron, even though Hunter was nicknamed the 'Nuisance' on ice (La Petite Peste in French).
Hunter served as the team captain for the Capitals. In the 1993 Patrick Division Semifinals between the Capitals and New York Islanders, Hunter had led his team with seven postseason goals, and was suspended 21 games for illegally and viciously checking and separating the shoulder of Isles star Pierre Turgeon.
Hunter finished off his career with the Colorado Avalanche, the successor to the Nordiques.
Age
Season
Team
Pos
GP
G
A
PTS
+/-
PIM
Shot %
38
1998-99
TOT
C
62
2
9
11
-7
119
8.3
37
1997-98
WSH
C
82
8
18
26
1
103
9.8
36
1996-97
WSH
C
82
14
32
46
-2
125
12.7
35
1995-96
WSH
C
82
13
24
37
5
112
10.2
34
1994-95
WSH
C
45
8
15
23
-4
101
11
33
1993-94
WSH
C
52
9
29
38
-4
131
14.8
32
1992-93
WSH
C
84
20
59
79
3
198
16.7
31
1991-92
WSH
C
80
28
50
78
-2
205
25.5
30
1990-91
WSH
C
76
16
30
46
-22
234
15.1
29
1989-90
WSH
C
80
23
39
62
17
233
18.7
28
1988-89
WSH
C
80
20
37
57
-3
219
14.5
27
1987-88
WSH
C
79
22
37
59
7
240
17.5
26
1986-87
QUE
C
46
10
29
39
4
135
18.9
25
1985-86
QUE
C
80
28
42
70
6
265
18.4
24
1984-85
QUE
C
80
20
52
72
23
209
17.4
23
1983-84
QUE
C
77
24
55
79
35
232
19.5
NHL season totals
1167
265
557
822
4
2861
15.6