Get a grip on these
Hockey cards NOW for less
!
When available, click on to see the card's image

Milotche Media's TopHockeyCards.com
Can't find your card? Request the value of your hockey cards!
LIVE LAST 7 DAYS TOP 10 HOCKEY PLAYERS SEARCHES
The arrows represent the comparison of searches from the current week (7 days) and the week before
LIVE NHL SCOREBOARD
TOP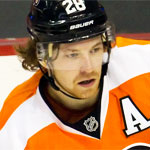 Claude Giroux (born January 12, 1988) is a Canadian professional ice hockey center and alternate captain of the Philadelphia Flyers. Claude Giroux was the Flyers' first round draft selection in the 2006 NHL Entry Draft, selected 22nd overall. Prior to playing in the NHL, Giroux played his major junior career with the Gatineau Olympiques of the Quebec Major Junior Hockey League (QMJHL), where he helped win a 2008 President's Cup and earned the Guy Lafleur Trophy as the 2008 playoff MVP.
Giroux made his debut with the Flyers in February 2008 and joined the roster full-time midway through the 2008-2009 season. A month into the 2010–11 season, the Flyers signed Giroux to a three-year, $11.25 million contract extension. Giroux was the club's top point-scorer in both the 2010-2011 and 2011-2012 seasons. In 2012, Giroux finished third in the league in point-scoring
CLAUDE GIROUX NHL Stats
Age
Season
Team
Pos
GP
G
A
PTS
+/-
PIM
Shot %
28
2015-16
PHI
C
78
22
45
67
-8
53
9.1
27
2014-15
PHI
C
81
25
48
73
-3
36
9
26
2013-14
PHI
C
82
28
58
86
7
46
12.6
25
2012-13
PHI
RW
48
13
35
48
-7
22
9.5
24
2011-12
PHI
RW
77
28
65
93
6
29
11.6
23
2010-11
PHI
RW
82
25
51
76
20
47
14.8
22
2009-10
PHI
RW
82
16
31
47
-9
23
11
21
2008-09
PHI
RW
42
9
18
27
10
14
13.4
20
2007-08
PHI
RW
2
0
0
0
-2
0
0
NHL season totals
574
166
351
517
2
270
10.1