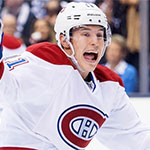 Brendan Adam Mathew Gallagher (born May 6, 1992) is a Canadian professional ice hockey player. He was selected by the Montreal Canadiens in the fifth round (147th overall) of the 2010 NHL Entry Draft.
In his first professional season, Gallagher was directly assigned to the Canadiens' AHL affiliate, the Hamilton Bulldogs, due to the 2012–13 NHL lockout. Upon a resolution, Gallagher was recalled to the Canadiens' training camp for the shortened 2012–13 season. Gallagher scored his first NHL goal on January 27, 2013 against Martin Brodeur in a 4–3 win over the New Jersey Devils.
After the trade of Michael Ryder back to the Canadiens, Gallagher switched from jersey number 73 to 11. On May 6, 2013, Gallagher was also nominated for the Calder Memorial Trophy, awarded to the NHL's Rookie of the Year, and placed second in voting.
Age
Season
Team
Pos
GP
G
A
PTS
+/-
PIM
Shot %
26
2018-19
MTL
RW
82
33
19
52
10
49
10.9
25
2017-18
MTL
RW
82
31
23
54
-13
34
11.2
24
2016-17
MTL
RW
64
10
19
29
7
39
5.3
23
2015-16
MTL
RW
53
19
21
40
13
24
11
22
2014-15
MTL
RW
82
24
23
47
18
31
9.4
21
2013-14
MTL
RW
81
19
22
41
4
73
9
20
2012-13
MTL
RW
44
15
13
28
10
33
12.8
NHL season totals
488
151
140
291
7
283
9.9